Chained with love ~ Aarikam Kashmir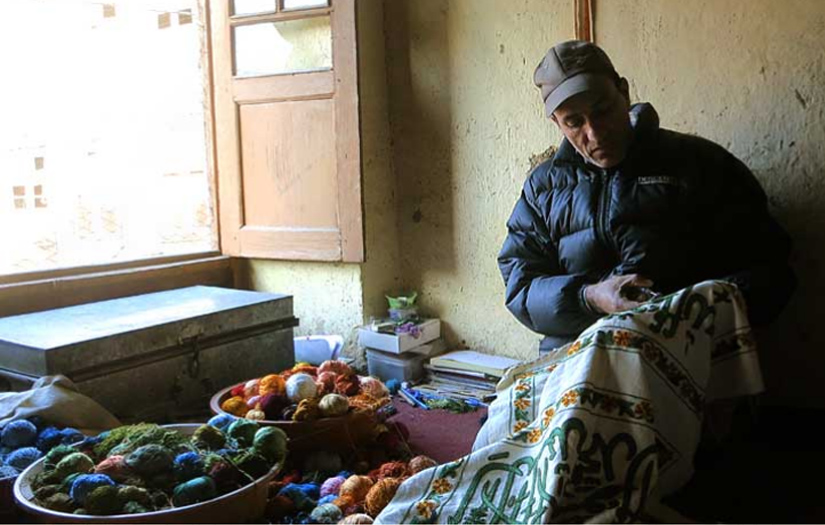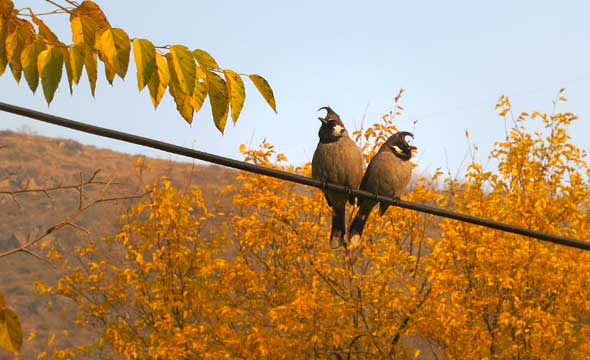 As claimed by a local legend, a 'Raffoogar'(darner) named Alibaba lived in the valley of Kashmir. He was proficient in his job of stitching and mending torn clothes and spent his days doing countless stitches and bringing dead clothes to life. One day a fowl stepped on a white cloth lying around, drying on his porch. The imprints of fowl's feet caught Alibaba's attention and he wanted to preserve this true to nature print. He picked up a needle with a colored thread and stitched around the print, preserving it for lifetime. An all-new technique of ornamenting the fabric, which was later known by the name of 'Kashida kaam' was thus invented.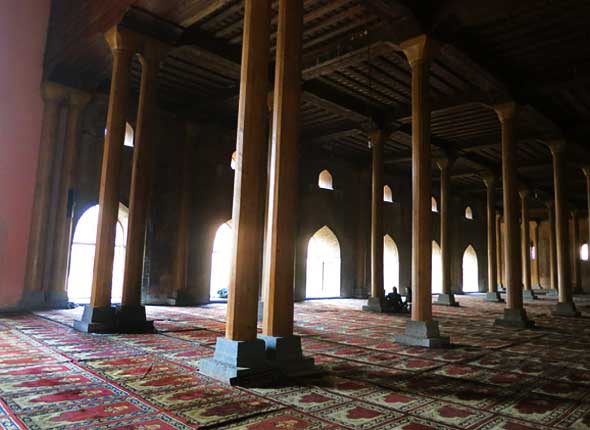 Having evolved under court patronage it is very different from other embroidery forms in India. It is without any doubt a product of Persian and Mughul influence. The name 'Kashida' has been derived from Persian and means free-flowing cursive writing. The craft along with other hand skills of the valley is also said to have come with a sufi saint and his skilled disciples from Persia. There is however no evidence to trace its exact time of origin. In the absence of actual pieces, paintings have proven as evidences. Some eleventh Century wall paintings found in the Alchi monastery of Ladakh show these exquisite embroideries on garments worn by the figures.
The craftsmen sit in a peculiar posture, with their knees up and their back against a wall. A thick hard cushion or a wooden plank at an angle acts as backrest. Men mostly work on embroidery while women prepare the yarn. The embroidery goes through many skilled hands before it is declared complete; no single piece is ever done wholly by one person. Another interesting and peculiar fact about Kashmiri craftsmen is that they hold the needle in their right hand only. There are very few or no left-handed craftsmen.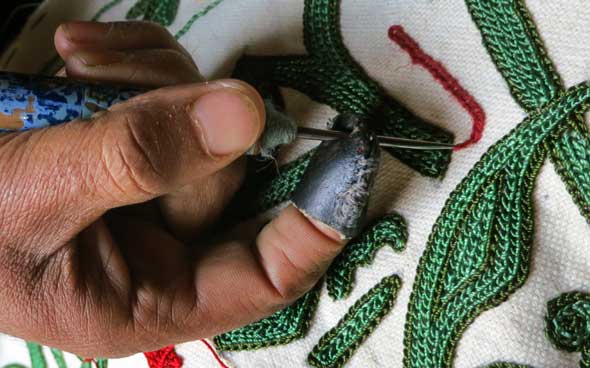 A thimble called 'Nyatth' is worn on the index finger of the right hand to protect it from the prick and to push the needle into the thick cloth. A single sided embroidery pattern is called 'Aksi', meaning reflection. When the same is done on both sides, it is called 'Dorukha'. Chain stitch embroidery called the 'Aarikam' uses a special crooked head needle, to hold the staple yarn in and draw it into a line on the fabric through numerous consistent pricks. Each previous loop is held by the subsequent one, to make a chain effect.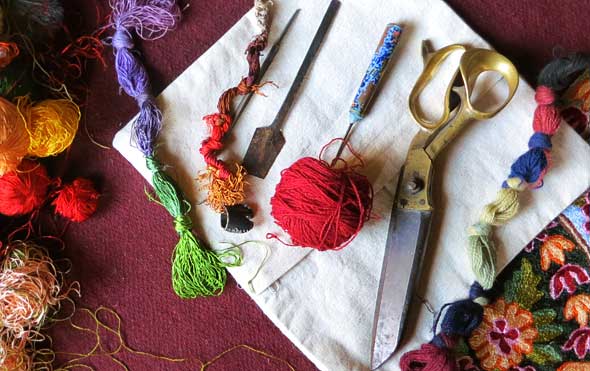 Pamposh (lotus), Sosan (Iris), Dachh (vine), Sumbal and Yambarzal (hyacinth and narcissus), Dainposh (pomegranate) are some of the most commonly used motifs. Abstract forms of birds and animals are also seen in the recent designs. Lions, rabbits, wild cats, deers, horses, bulbuls, partridges, herons, ducks etc are most represented. Human figures appear in the patterns whenever requested by the clients, especially in themes like the 'Shikargah' (hunting ground) or the 'Jangal-tarah' (jungle scenes). 'Jamwar' is a pattern, which covers the entire shawl. 'Jalidar' designs are Arabesques or net-like designs. 'Khatraash' pattern involves lines of different slopes.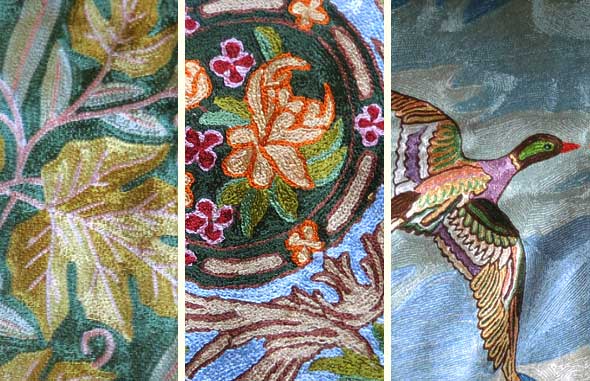 'Dordar Khurd' is a broad border of embroidery on 2 ends of the shawl, with minimum width of 3 inches. 'Bootidar' pattern comprise of small repetitive motifs. 'Charbadam ' pattern is a union of four paisley forms. The traditional motifs of Islamic and Persian influence have been modified over time with a distinct Kashmiri flavor. The most popular of those are the Gulab (rose) pattern and the Badam (almond) pattern. It is also known as Shawl-tarah. Another commonly seen motif is that of the 'Sarav' (Cypress). This is similar to the 'Badam' shape but is long and tapering. The artisans also use motifs of 'Chinar'(Maple) leaf very frequently. Calligraphic forms are also used in the embroideries.
With time several types of embroideries have evolved. Sozni, also known as 'Sozankar' is fine and delicate embroidery, which is mostly done on Pashmina shawls. 'Chikandozi' is another form of embroidery involving medium fine needlework. 'Rezkar' is embroidery in multi-colored threads and broad stitches. 'Watchikan' work involves raised flower and floral designs in golden thread on Raffal shawls.
In kashmir embroidery did not start as a domestic craft, it was practiced in workshops of the patrons or traders. And these traders were themselves the master of the craft most of the times. Lately however it has been taken up as a source of domestic employment, were homes turned into small manufacturing units. In order to expand the process, they started giving embroidery work to small groups to work from home. It is done in the winter months when farming is not possible. One such unit is run by a 40yr old master artisan Firdaus Ahmed Bhatt, in the heart of Kashmir valley, in a city called Srinagar. With an experience of over 25 yrs and a state award to his name, he finds solace in creating artworks out of his skill of embroidery rather than creating sellable products, which he does to earn his bread and butter.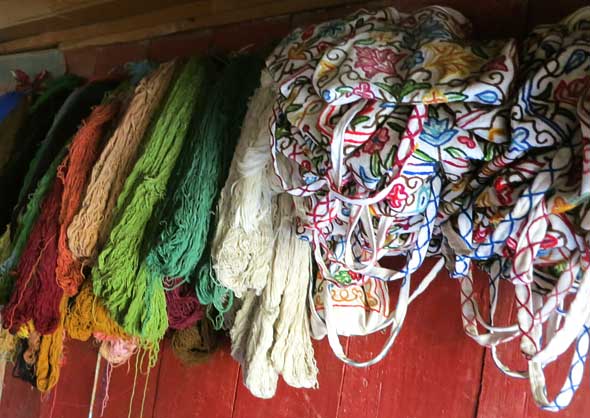 The embroidery is extensively used to adorn shawls, ready made garments and accessories like bags, belts etc. This particular style of chain stitch embroidery has also spread onto home furnishings. Where the petit-point embroidery or the 'Sozni work' is used to adorn wall hangings and floor-coverings, chain stitch or 'Crevel' work on the other hand, is used chiefly for drapes.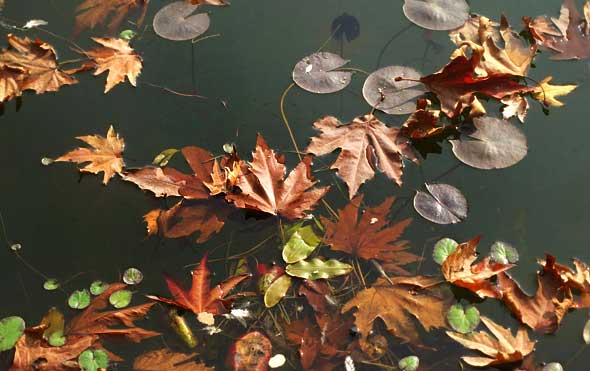 Nature has bestowed immense scenic beauty upon Kashmir. When an occasional drift of winds pushes the clouds off the skies and sunbeams pierce through them, lifting the veil of fog from the lush green valley, the concoction of colors and forms reveals itself… where the clusters of Walnut and Maple trees around placid lakes rest peacefully as their leaves float on calm waters… and it is this quiet, beaming with inspiration that is drawn by the crafts of Kashmir till date.
Buy Aari Products online ~ shop.gaatha.com