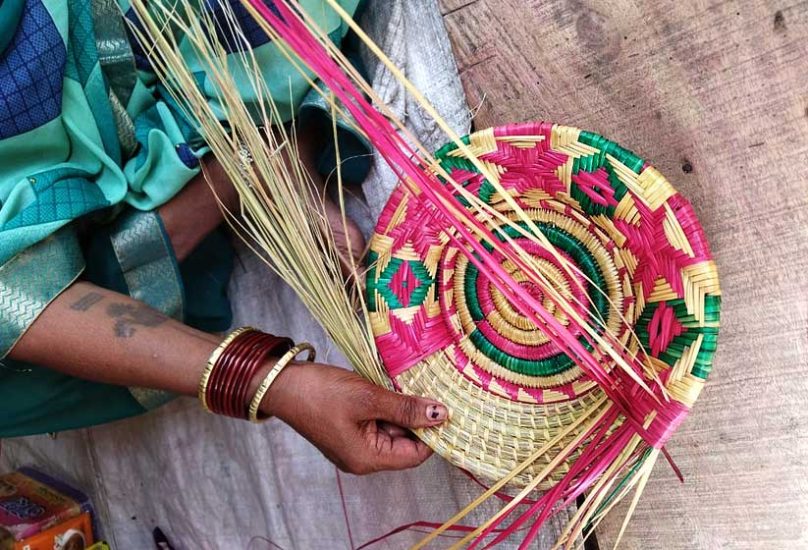 Kiran Sharma, Buchi Devi, Gyanti Devi, Saidun, Deji Devi, Indravati, Phoolvati Devi, Omtara, Sarita Devi, Sunita, Malti, Kusumkali, Rinku, Guddi Devi…. and the saga continues, creates and moves. In this story of extraordinary effort, with not one or two but many heroes holding up half the sky, Moonj becomes a centering feature and collective intention that is enabling the enablers, the women of Purvanchal.
Widely available along the banks of the rivers, the free and wild grass – Moonj is harvested in the months of October and November. Women weave and compose baskets for their household utility and also to form a part of a bride's trousseau. This is largely carried out as a secondary occupation to agriculture in Uttar Pradesh. These eco-friendly products can be used as containers for dry storage, food storage devices, for making carry bags and wall decorators.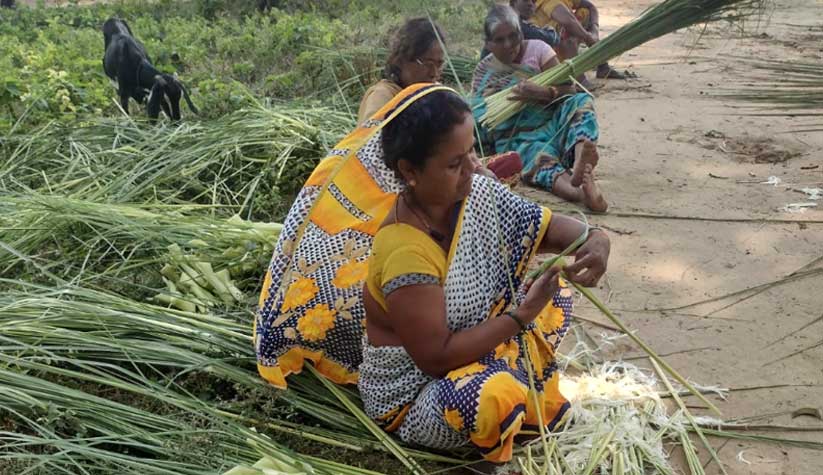 The process starts with sun drying the grass. Both Moonj and Kaasa grass are dried under the sun for days, dried grass is then made into small knots, which are called 'Balla' locally. These knots are soaked in cold water, which improves their flexibility. Since the grass is not available all year long, women store these 'Ballas' or straight dried Moonj in a dark and dry place. Raw and natural colors that are made available at every nook of the village are used to dye the grass. Red, green, purple, yellow, pink, blue, orange and other (non natural) powdered colours are added to boiling water, where Moonj grass is soaked for 30-40 mins followed by sun drying, to impart vibrant hues to the product. While some women like Kiran master product making, Saidun and Buchi Devi love to experiment with the available colors to make new ones. Traditional coiling technique is employed to create a range of handcrafted products.
The knowledge is passed on to a new learner by these women, just as it was passed on to them by the older women of their community. For the art to pass through more hands and minds, a group of 50 women from Deshi Deoria, Bhatni and Sonughat villages of Uttar Pradesh have come together to create viable commerce from the craft. Not only are they deft artists of their craft but work as a community with a great sense of ownership – among various roles they assume, they are leaders, supervisors, trainers, delegate tasks and ensure a balanced routine of work and play. This collective effort and awareness functions under the name of "Moonj of Purvanchal" – an initiative supported by Jagriti Enterprise Center, Purvanchal.
A typical day begins at 4am before the daybreak as they welcome and pray to the morning sun and fresh air that fills them up with a renewed enthusiasm to be their best and perform their best through the day. The best homemaker and provider that cleans, cooks and feeds their children, the best farmer who looks after the fields and offers her labor to nourish the crops, the best artisan and business women at 2pm in the noon and so on. They demonstrate this greatness by being the best administrators of their time to conduct all their businesses effortlessly. With such divine and dedicated functioning it's not a wonder that most of these women have 'Devi' as a default title against their fanciful names.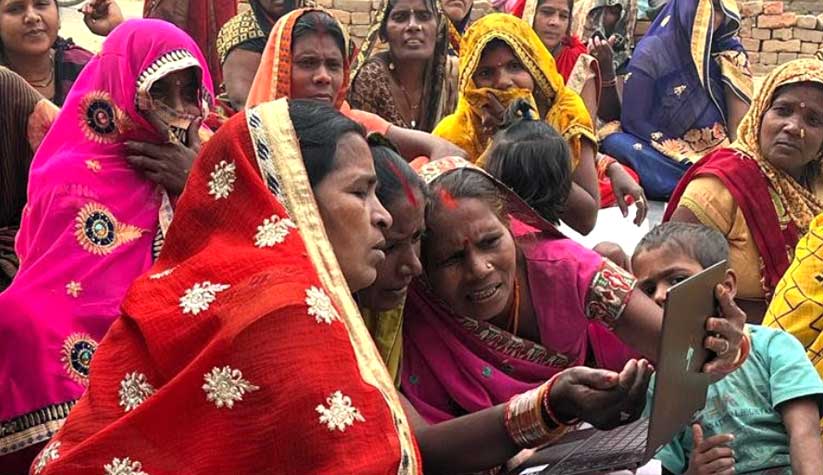 Behra Dabar, one of the villages in Bhatni is home to 20 artisans, post their mundane chores these women gather in Kiran's courtyard to make Moonj products. Over chai and namkeen they keep the banter on as they get to business. The older women like Indravati, who is 86 maintain the decorum and guide the younger folk to perfect their weave, while Omtara takes on the task to quality check every product. They come together and exchange their geniuses to sway us with their intricate designs and new products. These women have discovered possibilities of making contemporary products with the intention of connecting with the urban masses. They showcase their traditional weaves and colors in planters, hand fans, storage boxes, fruit baskets, bottle holders, coasters, wall hangings and much more.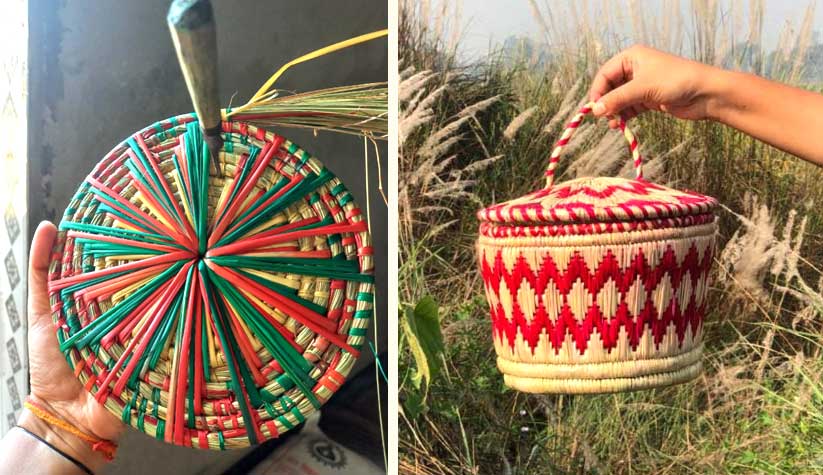 As an initiative based in Purvanchal, a place native to many handicrafts, the ever so positive outlook and effort of these women is contagiously inspiring to spread the same undying spirit across various artforms. In light of the example ahead of us it wouldn't be wrong to say that it is the subtle yet strong practices that have emerged from these entrepreneurial women coming together, investing in each other and winning, that have come to offer creativity and functionality to human existence on the planet.

Story by ~ Pranchal Joshi