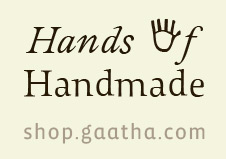 In the depths of India, someone is merrily making something unique for you, humming a sweet folk tune.
Recognizing the humble heroes of Indian handmade.
Contribute your own images of craftsmen to #handsofhandmade and get featured at Gaatha, winning exclusive prizes.
• Entry is open to all; entries should be submitted by individuals through mail at [email protected] with the subject 'Hands of handmade [Entrant name]'.
• The name and place of the featured artisan should be provided in the mail. 
• Entrants can submit any number photographs in one entry.
• The same photograph should not be submitted more than one time.
• The photographs must have a minimum resolution of 1024 x 700
• Entrants must be the sole author and owner of the copyright for all the entries they submit.
• Being an entrant, you accept that your entry may be exhibited by Gaatha or other exhibitions organized or attended by Gaatha as part of Hands of handmade. Gaatha reserves the right to reproduce any entry for exhibition purposes.
• Every week Gaatha will announce the winners based on the appreciation received on facebook and the opinion of commitee at Hands of handmade.
• The winner's entry will be featured by Gaatha and would be awarded with featured prizes.
~
Gaatha Team