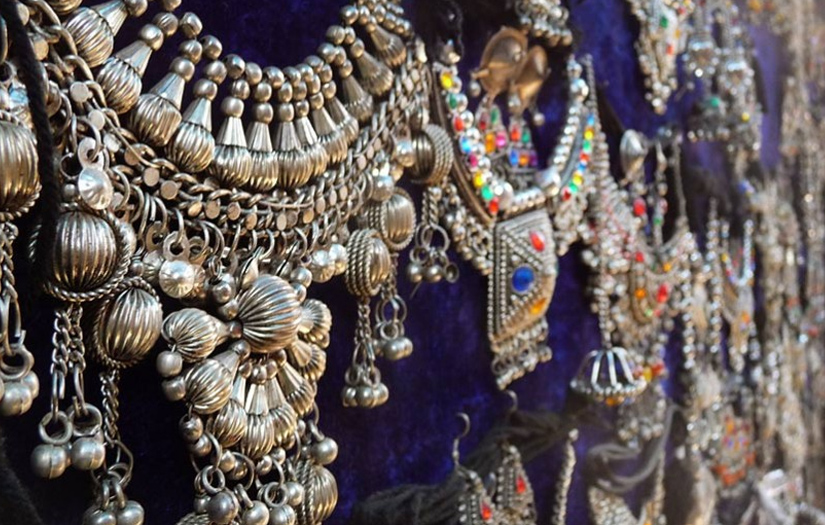 It is only in Kutch that bright colours of richly embroidered garments find the company of ample silver jewellery, and together they tease the harsh desert sun.

White metal jewelry
From anklets to earrings, armbands to chokers, if not cloth, it is metal that adorns. Even men wear silver ornaments, only adding to their masculinity. Jewellery is not just a means for embellishment, but more of an investment. It is a mark of identity, a display of wealth and therefore, a symbol of pride. To source this treasure, they travel to Bhuj, Gujarat, one of the centres of silver jewellery. The Bhuj city market is a treasure trove for proud wearers of chunky, traditional jewellery in its purest form, as well as its miniaturized cousins for souvenir seekers.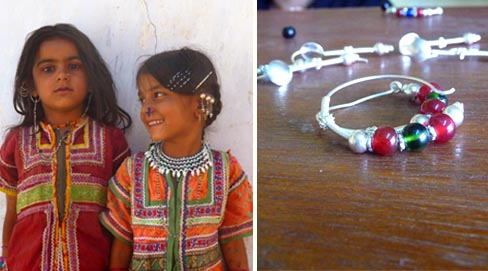 Silver sheets and wires are the basic raw material with which embossed patterns or coiled shapes are made. Glass beads add colour to the preparations and ghungroos, or small bells add their music.
The heavy boisterous silver jewellery trickles down in form as it reaches the city of Ahmedabad. As it tries to decide whether to fit in, or stand out, it takes on itself some local flavours. It is lighter and much more affordable, as it changes from an heirloom to an artifact. In white metal, an alloy of tin and other metals, it finds its new identity.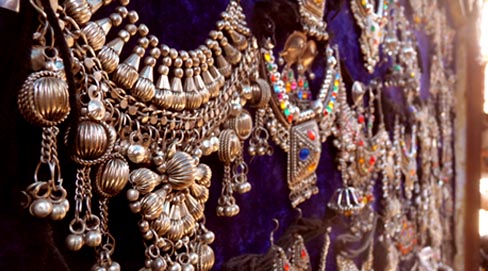 Sheets of white metal, each manually pressed into moulds to duplicate the Kutchi silver designs, make the base to which more decorative elements will be added. In this old city area of Ahmedabad, men and women concoct an array of designs, traditional and contemporary, from a potpourri of glass beads, white metal globules and embossed pendant pieces, stringing them in black thread. Sometimes shells and coloured thread tassels add a tribal charm, while semi precious stonesmay make them a little more "elite".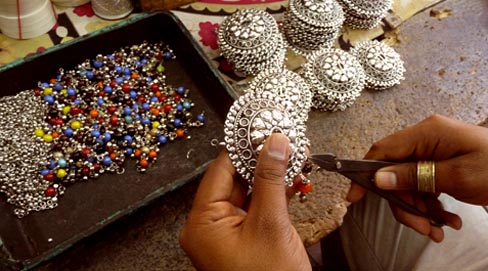 A coat of oxidizing polish powder mixed with a oil based binder and applied to the pieces, and then polished off with a soft cloth for a quick,"antique" finish. What tricks the city has learnt, to imitate the beautiful, rustic look of well worn silver!
The white metal jewellers co-exist with silversmiths in the same marketplace; there is a customer for everything. Pure silver is popular in the form of delicate pieces of jewellery, or for religious articles, while white metal in its unrestrained flamboyance and affordability has a mass appeal. Ahmedabad being one of the centres of silver jewellery in Gujarat holds a confluence of contemporary design influences and a traditional Kutchi flavour.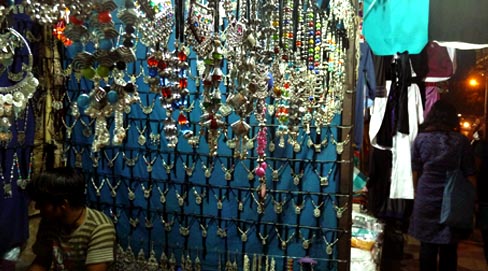 The nine auspicious nights of dance and celebration, see a reemergence of ornaments and finery in their prime. The crowded streets of Teen Darwaza and Manek Chowk in old Ahmedabad and the bustling stretch of the Law Garden road across the river are ablaze with colours and lights during this time. Colourful ghagra cholis with embroidered mirrors bouncing off lights and chunky silver and white metal jewellery decorated with glass beads, lure passersby to bedeck themselves for the festivities. It is during Navratri, that a year's sales of jewellery may take place within a fortnight.
People may move to cities, but no woman can leave behind her desire for adornment. Call it a cheap imitation, or a meaningful souvenir, the white metal jewellery holds a link to one's roots, a piece of culture within itself.
Buy Online ~ Shop.gaatha.com
~