Adorning Ornamental Identities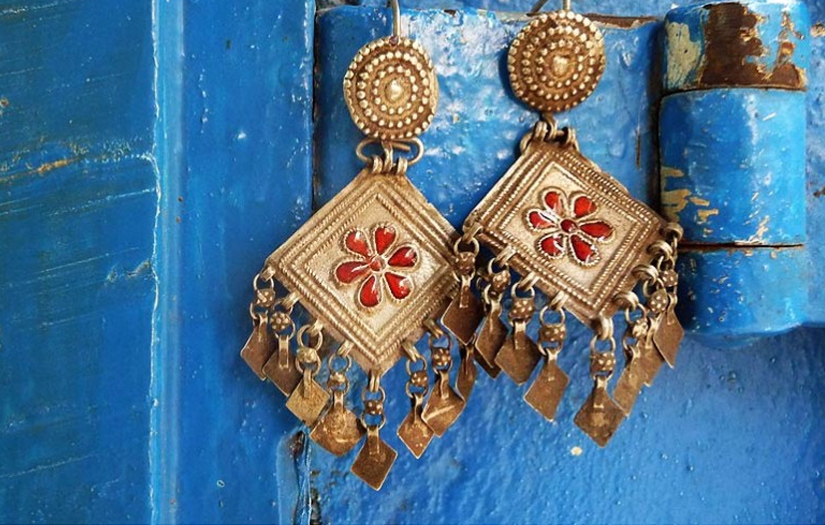 The demure look of the eyes and the colorful exuberance of the costumes of a new bride amidst the Kutch lands are finely balanced with layers of shiny metal that add grace with age.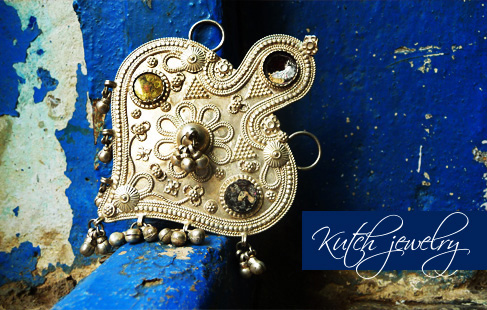 Silver Jewelry Kutch
Far from the hustle of the bustling metros, where the style trends are aping the West and are set by going micro with every passing day, there exists a vast population of women who exude radical beauty with silver adorning their bodies and the designs of their ornaments making a difference to their lives and lifestyle.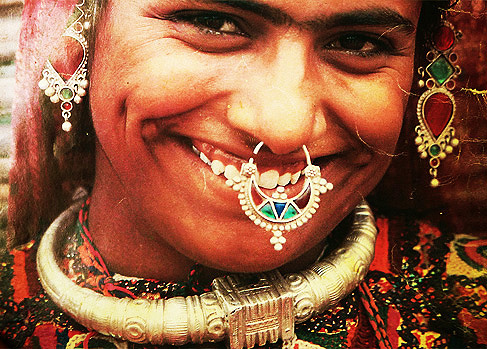 Embracing silver from a very nascent age of four to five years, the folks of Kutch often puzzle the passersby, with not so evident reasons to wear such heavy ornaments against the hostile climate. Even today, a traditional Jat woman can be seen wearing ½-1 Kg of silver ornaments every day. The reasons unfold themselves as we get deeper into their lives, being mostly of nomadic origins, the people here have always had very minimal shelters like carts covered with thatch or mud Bhungas, which guaranteed little or no security. So, the gracious metal is actually a way of investment, generally worn in the purest possible form and always kept under vigilance. The natives fall back upon these ornaments at the time of natural calamity.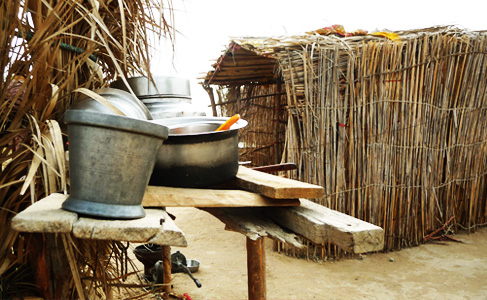 These ethnic tribal communities adorn jewelery to distinguish themselves from the myriad tribes, eg. Rabaris can be easily identified by looking at their women folk, who are usually clad with long black head scrapes, distinctive heavy brass earrings which hang low, stretching the earlobes. They tattoo magical symbols on their necks, breasts and arms. Their jewelery is modest in comparison to other tribal women.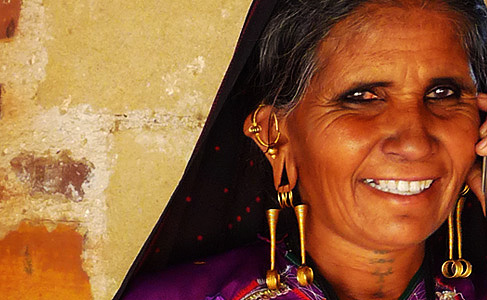 The silver jewelery of Kutch has become an identity for individuals as well as tribal groups wherein specific patterns and locations of wearing the ornament become important. The Vatla is a spiral necklace worn by Harijan women. Nagali,spring earrings are a sign of marriage. Bungri or Phul, worn in helix by Rabari and Bharvad men and boys, sits on top of the ear like an umbrella and is a prime mark for the identity of tribal men of this region.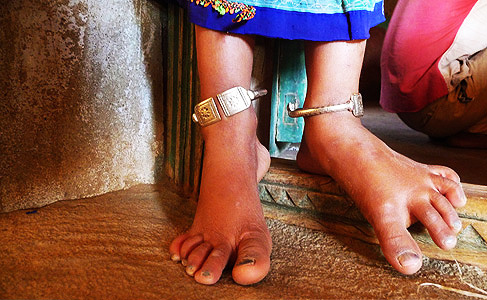 Age-old trade links with Arabian, Persian and European countries have greatly influenced the form and the style of these ornaments. Descending from the north of Rajasthan, these nomadic tribes (collectively called as the Gujjars) shared along their way, the designs, resulting in some thirty-five different kinds of the earrings alone for the men, women and children of various communities (like Rabari, Ahir, Bharvad, Jat, Satvaras). They wear silver earrings passing through their wide ear holes, which are achieved by passing through, rolled up metal sheet several times. The tika on the fore head as well as the kada and toda on foot are ornaments of daily use.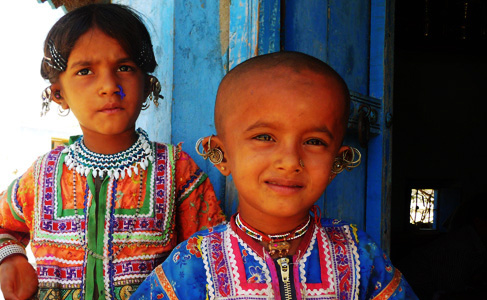 Bhuj has been the center for trade and commerce for all the villages around it . The silver market popularly named as Sarafa Bazaar is around 200-250years old and is existent from the time of Maharajas. Dining sets, tea pots, cups, cutlery, bowls to other articles of a lavish lifestyle like jhulas, candle stands, jhumars, furniture were traditionally made and sold in the market. Islamabad and Karachi were also good markets for the Silversmiths of Kutch. Trades faded with the increasing tensions between the borders, leaving only 10-12 families in the city that still make traditional jewelry. The rest have switched to selling lighter articles like 'payals', which have a contemporary outlook from the sales point of view.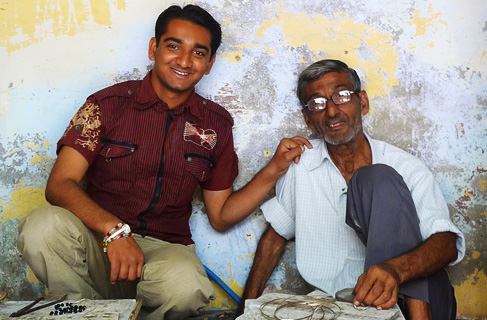 One of these rare survivors of time is master craftsman Mukeshbhai Pomal who ispracticing this heirloom craft since 45 years. Originally from Anjar village, he shifted base to Bhuj after the devastating earthquake destroyed the village.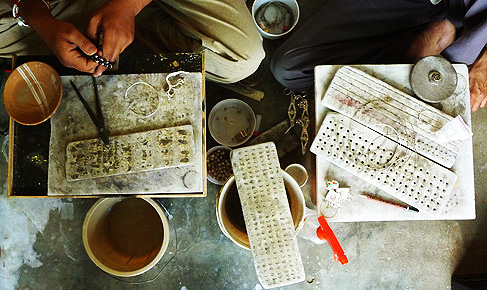 Procured in the form of biscuits and bricks from Rajkot and Ahmedabad, silver undergoes a number of processes before shining against the dusky background of its patron. A variety of techniques are employed by the artisan to get the desired effect while making these traditional marvels.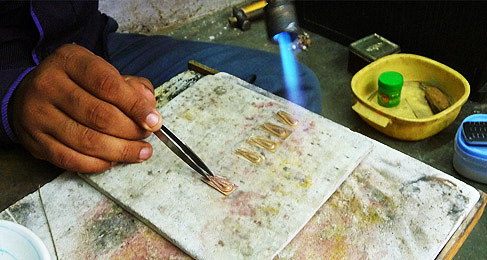 They emboss and cut, spring wind thin and thick wires to get conical shapes, beat patterns on the lacquer filled 3D forms and make concentric wire filigrees with granulation. Silver is mostly preferred in its original color, only in some cases to add accents, Meena work is done.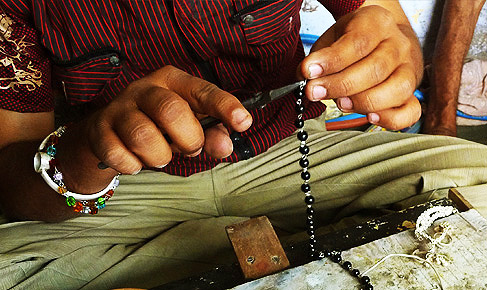 Shining for a difference, these ornaments reflect designs that not only exude richness and the affluent status of an individual but also hold as great instruments for safety and health. Women wear broad kadas with poky nail like protrusions on the surface, which is a traditional design, but it provides safety from wild animals when they are in the forest, rearing cattle and collecting wood. Thoriya, a stud for the cartilaginous cavity of the auricle, is said to be important for acupuncture points, to ensure good health.The ornaments are used daily and hence; often one can find things of utility like toothpicks and ear cleaners in silver, dangling in the form of lockets.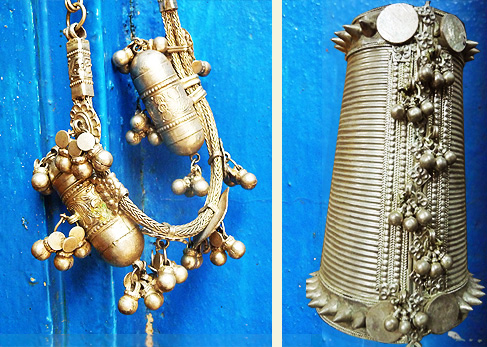 It is interesting to know how accessories play a role not only as pretty ornamentation but also accentuate functionality in terms of safety, health and investment. The silver ornaments of Kutch are a reflection of design purity, where they not only shine for beauty but they shine to make a difference to the bodies that they adorn.
Buy Online ~ Shop.gaatha.com
Read more about Jewelry ~ Gaatha.org
~