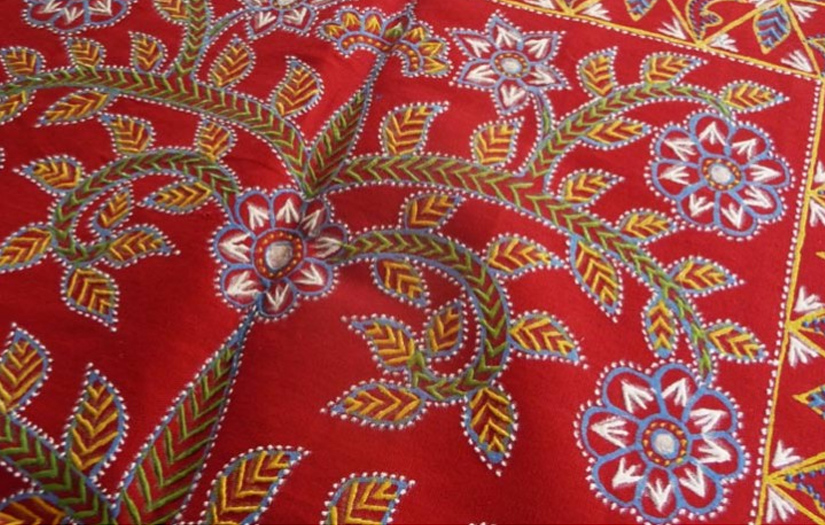 The practice of self adornment and decoration has always been an integral part of human social life. And with improved senses over time, cultural exchanges with migration of clusters, innovations kept happening.
Kutch has always been very popular for its distinctive use of threads, beads and printing techniques to create colourful fabric ornamentations. But not so popular is the art of decorating wearable fabrics like painted canvases.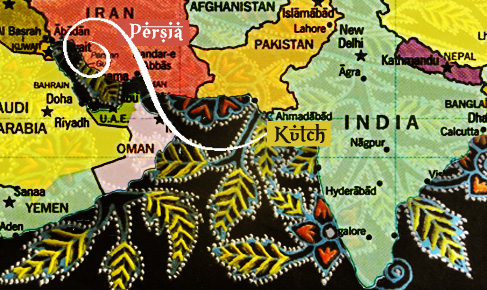 Rogan Art, an ancient skill with its origins in Persia, came down to Kutch around 400 years ago. Traditionally, the craft was pursued to beautify bridal clothing of the regional tribes, beautiful borders and floral patterns on Ghagras, odhni and bead spreads were painstakingly painted.However, it being a dying craft with more people showing interest in it in the form of wall pieces, 'Rogan kaam' has gained popularity as Rogan art in today's time.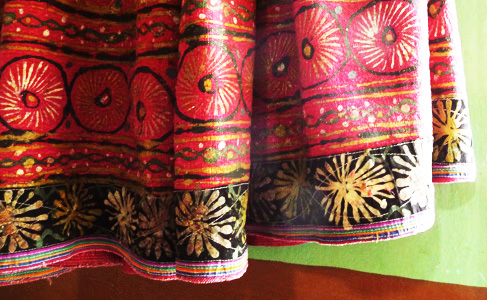 For bearers of the seven generation old art are Abdul Gafoor Khatri's family, for they appear to be the only family practicing the little known art in the small village called Nirona in kutch. Khatri abandoned school when he was just nine years old, preferring to work with the family as they toiled over the intricacies ofpreparing thecastor oil base (known as rogan), in which they mixed vegetable pigments and created vibrant organic patterns. He would watch intently as his father dipped a slim metal stick into the color and used it as the brush.
And yet, when he was a young adult, he turned his face away from the art he loved so much, trying his hand at various occupations. Then in 1983, he got a call from his grandfather. He was ailing and had a complicated order to execute. He was also desperate that this art should not die with him. "So, I went back and picked up the brush angain…and haven't put it down since…" recalls Khatri. In 1988, Khatri won the State Award and in 1997, the National Award.
The biggest problem that the art continues to face is lack of awareness about it, which results in the finished product resembling a printed or embroidered piece of fabric. It is perfection that they try to achieve with every painting, but it is so perfect that it needs to be explained that it is not printed, but painted by hand.
The process is time consuming. First the rogan (which takes its name from the Persian word 'oil-based') has to be prepared by heating castor oil to boiling point over three days, cooling it and then as it thickens, mixing in appropriate amounts of colors. The pastes of yellow, red, white, green, black and orange are kept in earthen pots with water to keep them moist. A Thin iron rod, flat at both ends, is used to paint.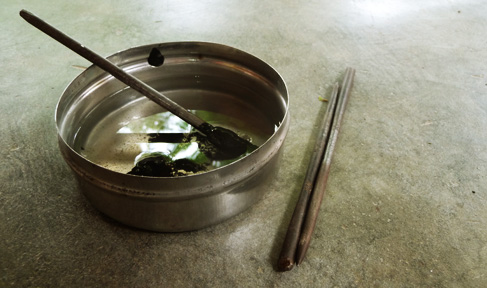 The painting takes quite some time to be done on a small piece of cloth, depending upon the intricacy of the work and the type of cloth. If the work is very intricate, then a square foot piece of cloth could take around a month. The work takes time because first the outlining is done, then the work is filled, then after drying, the colors are added and then the work is done again. Drying generally takes two days. In case of symmetric patterns, to reduce the effort, the fabric is folded from the centre to get the impression on the other half, this also helps in creating effects like the background and the foreground.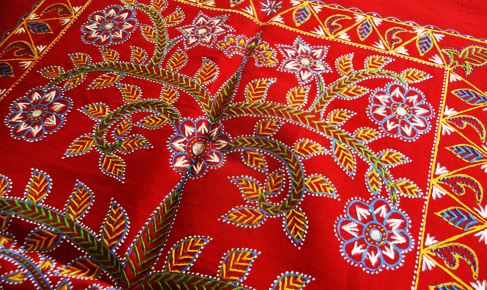 While Geometric patterns are perennial favourite, motifs such as 'The Tree of Life' and Moghul paisleys that find expression in cushion covers, bedspreads, kurtas, curtains, table cloths, wall hangings, folders, paintings, purses , dress material and saris have also been experimented. It was his intricate work on a sari, completed over an year that won Khatri the National Award.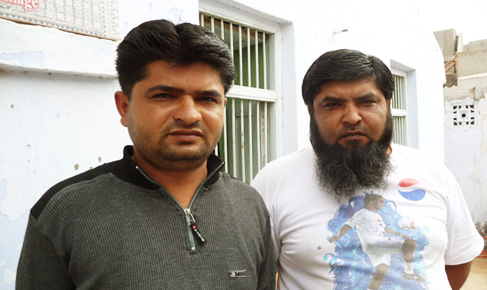 With cutting edge technology defining the pace and the taste of today's world, our age old tribal crafts are finding it difficult to maintain their identity.  Rogan painting is an example of a spell binding yet dying art, with just six people from the same family shouldering this tradition today.
Buy Rogan Art ~ Shop.gaatha.com
Read in Detail ~ gaatha.org
~