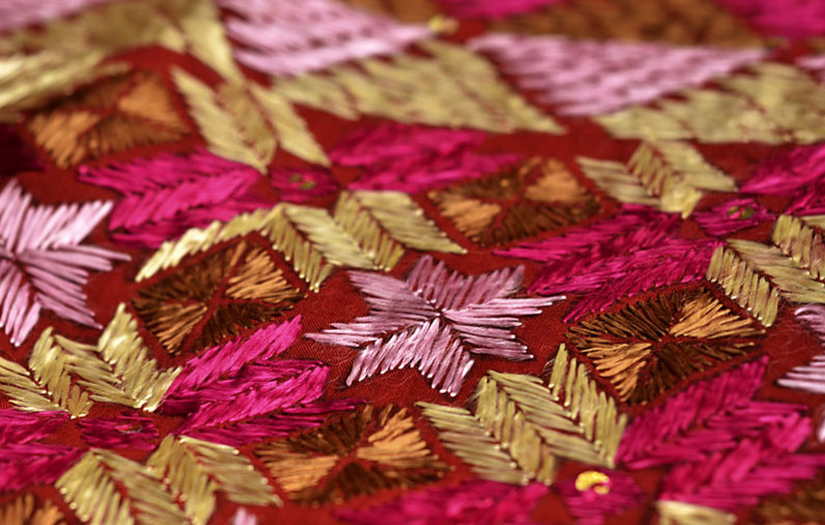 While the whole world is going nuts creating and apparently solving complexities, there still are a few blessed ones, for whom life is simple…. Not because they are incapable, but because they choose it as their default… Does God bestow grace in such wondrous ways? Like dogs can't get over solving the bone puzzle while the master is actually making time for other important things…. Things like making a life for Veera and Harpal…. somewhere in the lap of mother earth.
Veera and Harpal were two such souls … who had found each other…. not here, but in the infinite archival of souls God curates. Now, this God is a loner. Having balanced all his karmas, he does not associate with any form or name anymore. So, holding hands, the two decided to descend on the planet….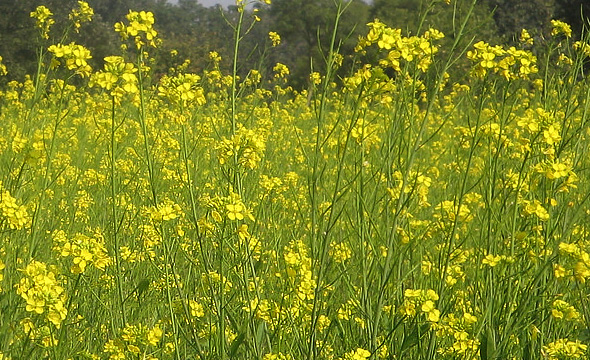 Yellow-green fields, five rivers fragmenting the land, cozy homes, warm hearts…. There was bounty and two kids were born, each in a neighboring house, one as boy and the other one as girl….
A brand new tractor bought by the boy's father and a golden Phulkari wedding dress embroidered by the girl's grandmother were assets gifted to the family and the celebrations began mutually….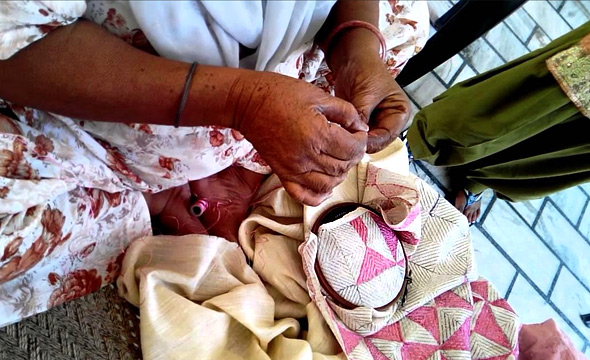 They grew up much as the other kids of the village… learning and playing in the same fields they fed on… growing fonder with adolescence, they learnt to walk together, with a bicycle and a sugarcane almost always accompanying them along the fields. Getting them married to each other occurred only as an obvious next step to both the families… It was time that Veera put her many years of learning and imagination together to create the most exquisite masterpiece. She was to embroider a full Odhni with Phulkari…. putting in it, all her vivid colorful dreams….With a few months in hand… she began… a Red one…her favorite color since she was sixteen. Nineteen now, she wanted to mix it with pink roses and give it a golden edging… which would look beautiful with her golden jewelry… in-between came her beloved butterflies and birds….a shining 'Garden of Flowers' was in making…. 'Reshmi Dhaga' decorating the Khaddar (coarse khadi) background. With not an inch of the fabric left visible, she had patiently created a Bagh Phulkari.
With many more Phulkari Duppattas, lehengas, cholis, a Darshan Dwaar for the pooja and some basics to start a new household as gifts from her friends and kins, she was all set for a familiar new journey. A Devi incarnated… Lakshmi, as they call any newlywed bride entering a new household, she was dazzling in Red and Gold from head to toe… Eyes gleaming with happiness, hands raised to shower flowers, vocal chords synchronized to sing prayers…. melodious, in chorus… as they took the vows around sacred fire.
The Parmatma, who had nothing to do with anything, also was provoked to lift up and bless the occasion…. such harmony was a rarity on earth now a days…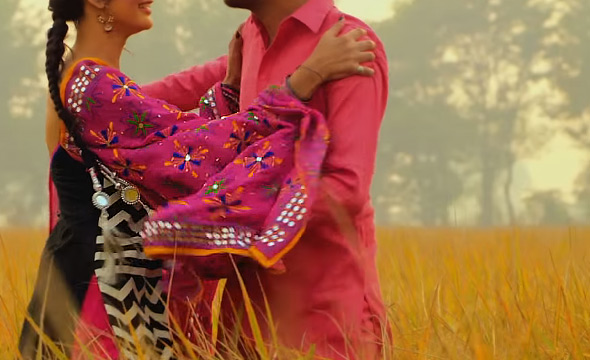 They lived together as a couple, kind and content and were soon blessed with a baby girl, whom they lovingly named Shereen. She was brought up not as a girl or a boy but as a human being….learning embroidery from her mother and helping her father in the fields…she was one heart between the two of them.
The girls would team up in the courtyard every morning, calling friends from neighborhood…. Sharing their daily stories, observations, problems … they would laugh away their daily woos, help each other stay hopeful, share recipes, techniques of embroidery and color combinations. Teaching a new bunch of girls Veera would always say;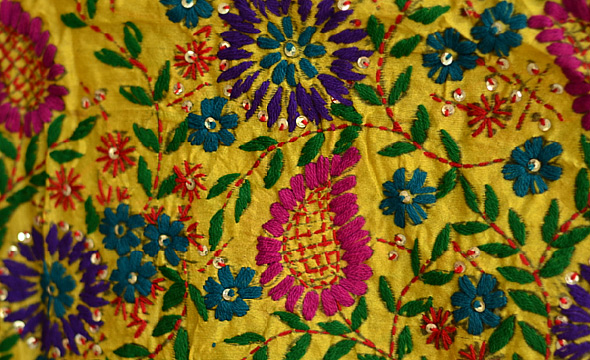 " Khaddar, Sui, Reshmi Dhaga te ek Paagal dimaag… bas eda hi kamaal hega…" (Khaddar fabric, any needle, soft silk floss and a crazy mind are enough to create magic)
Explaining the process further, she would practically hold a fresh piece of fabric and make perfect isosceles triangles for mountains, running the needle over it in tiny and close darning stitches… she would turn the wrong side of the fabric after the shape was enclosed …as magic! Every new kid would be awe struck to see a completely filled triangle on the wrong side…. This was enough to fuel the excitement of young girls' and in no time they would grab their Rumaal and begin their own versions of the magic…
Mother often brought lunch to the fields…steeling herself from farm jobs, maintaining household, fetching water from well, cooking, fetching timber for burning, taking care of cattle and the other chores of household ….always in a sturdy Khaddar Kameez-Salwar and a phulkari Dupatta gracing her well-structured body. Both Harpal and Shereen would run to her at a glance and the trio would sit complete under a Peepal tree for lunch… fresh maze bread, spinach, green chillis, jaggery, Chaas and giggles…
"Can I embroider this Hari Mirch on my Rumaal" Shereen inquisitive and eager to put everything around her on her recent piece of embroidery asked.
And her mother laughed "don't you see better things around…look at that newborn calf, the yellow mustard flowers… how about making those triangular mountains or the orange sun…"
Shereen "This dragonfly?!?"
Veera "Ummm…. Let's make the Rail Gaadi…. Loooong as a snake…"
Sheeren "Yaaa… and I'll also make you both and me sitting in it…."
Both chuckled giving hi fives to each other…Tinkling of glass bangles and giggles brought a smile on father's face who was happily napping under the shade…
She was not just an apple but a basket full of apples of her parents' eyes…
One of the many accomplished love stories from the land of Punjab… may not be so great because no one ever wished to exaggerate and portray it larger than life…But good… it was…. And since it was an accomplished one, it was also great beyond examples…
Veera and Harpal worked hard in fields and fed thousands without infusing life threatening chemicals into their genes, they chose to spread good health as farmers, even if it meant harvesting limited quantities and earning a few thousands lesser than they could if they used chemicals on their soil. They gave, generously to whoever came needy to their doorstep. They sent their only child, a girl, to study with local kids in the village, to teach her lessons of humility and empathy before she went up to learn medicine, engineering, acting, writing or flying airplanes….which of course was left upto her own discretion…. She was allowed to imagine….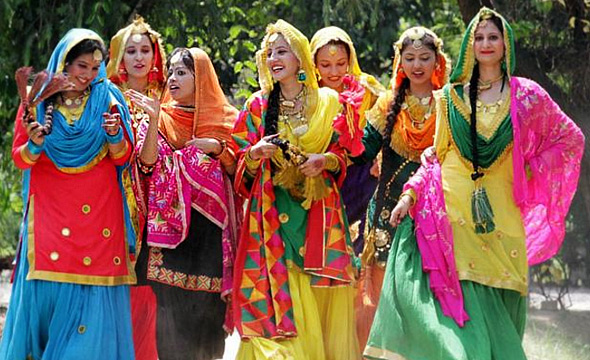 No, she was not married at 19, not because it was too young or old and age but because she hadn't met her soul mate till then….but a box full of Phulkaris…her explorations from the time she was a little girl to when she became an adult was kept aside safely…. One for every occasion…Red for marriage, pink for when she would become a mother, blues and violets for other occasions, whites and goldens for when she would be a grown up women and a stark white for the final journey… Whether it was Baisakhi, Lohdi, Holi, Gurupurab, Janmashtmi or just another day a Punjabi felt like some Dhol and Bhangda, Phulkari was always around dancing Gidda…
Types of Phulkaris
BAGH:With time Phulkari became increasingly elaborate and decorative which led to the evolution of a special ceremonial, Bagh Phulkari.
Bagh literally means 'garden of flowers', and the embroidery is so profuse that the ground colour is no longer visible thus the embroidery becomes the fabric itself.
Unlike Phulkari, Bagh demands more time and patience and more material, thereby increasing the expense. Thus Bagh is a status symbol.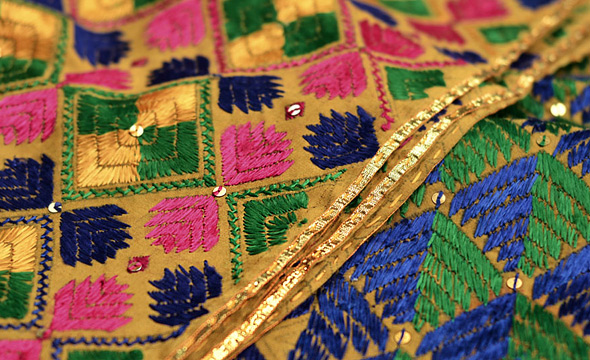 CHOPE: Chope is usually embroidered on the borders. It is gifted to the bride by her grandmother during a ceremony before wedding. The Chope is embroidered straight with two-sided line stitch that appears same on both the side. Unlike Phulkari and Bagh where a variety of colours are used, Chope is generally embroidered with one color, golden or yellowish golden mostly.
THIRMA:This Phulkari from the north of Punjab is shared by Hindu and Sikh traditions and is appreciated by collectors. It is identified by its white khaddar. As a symbol of purity, Thirma was often worn by elder women and widows but, at times, this choice of color was also made for aesthetic reasons. The pat was generally chosen in a range of bright pink to deep red tones. Cluster stitched flowers and wide triangles covering the forehead, chevron darning stitch surfaces were very common Thirma patterns.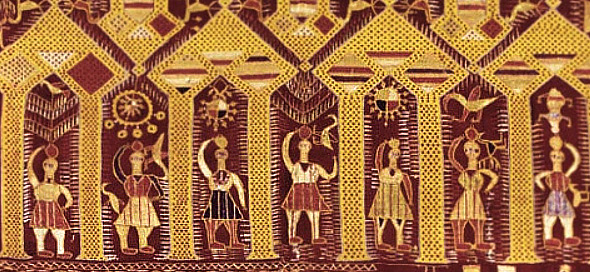 DARSHAN DWAR: Darshan Dwar that can be translated as 'the gate through which God can be seen', unlike other Phulkari were not made for a person but for a temple as an offering to the god, after a wish had been fulfilled. For this reason, while a dowry could contain dozens of Phulkari, Darshan Dwar has never been made in big quantities. Like other figurative pieces like Sainchi Phulkari, this particular kind of Phulkari was made in east Punjab, a mostly non-Islamic area that allowed for a broad variety of human and animal representations.
SAINCHI PHULKARI: Sainchi Phulkari are figurative pieces narrating life in the villages of South East Punjab. Local animals; goats, cows, elephants, big cats, scorpions, peacocks are represented moving among wrestlers, farmers, weavers, etc. Train is also often displayed on Sainchi Phulkari; this means of transportation, brought by the British in the second half of the19th century had a big impact on people's lives.
In addition, they were produced in a relatively small area, Firozpur and Bhatinda districts and required high embroidery skills. For these reasons they were appreciated by collectors and occupy a very unique position among all the other varieties of Phulkari.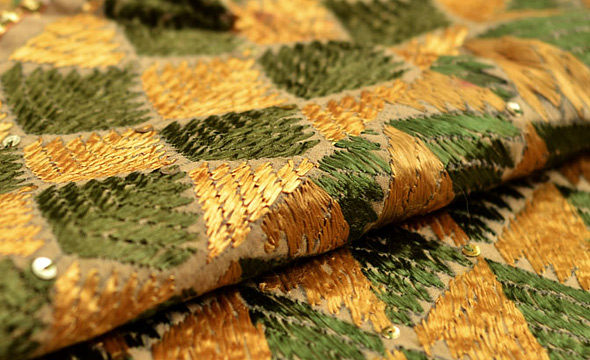 VARI-DA-BAGH: Vari means a gift offered to the bride by her in-laws. This Bagh was gifted to the bride by her in-laws when she was entering their house, her new home, on the wedding day. It is an exceptional case as all the other Phulkaris were a part of her dowry and thus given by her own family. Vari-da-Bagh is always made on an orange-reddish khaddar and except for its border and sometimes a small decoration; it is always embroidered on its whole surface with a single golden or orange colored pat.
This Bagh's main pattern is a group of three or four small concentric lozenges of growing size included in each other. Despite the fact that only one color of pat is used, these lozenges are easily revealed when seen closely. The outer one symbolizes the Earth, the next one the city and the third one the family house. It happens that this last lozenge is split into four smaller ones, symbolizing the parents of the groom and the bride. The bride is wrapped in this Bagh by her mother-in-law when she receives the keys of her new house, thereby handing over the responsibilities of the house.
BAWAN BAGH (or Bawan Phulkari):'Bawan' means fifty two in Punjabi and refers to the mosaic of fifty-two different patterns that decorates this piece (the number of patterns can however be at times more or less than 52). Bawan Bagh (or Phulkari) was in fact a display of samples used by professional embroiderers to show their skills and the patterns they could provide to their clients. This explains why Bawan Bagh is the rarest of all the Baghs and Phulkaris.
SURAJMUKHI: Surajmujkhi, the sunflower, refers to the main pattern of this Phulkari. From a technical point of view this type of Phulkari is unique as it is the only one that mixes in comparable proportions Holbein stitch (used to make Chope Phulkari) and the regular darning stitch.
KAUDI BAGH: Among their patterns, this Bagh includes chains of small white squares representing stylized cowries. Used as currency in the old times, these shells have now lost their value and using them as ornaments has thus become artistic. From another point of view, the shape of these shells reminds of female genitals and makes them symbols of fertility. Kaudi Phulkari was often worn by women wanting to increase their chance of pregnancy.
PANCHRANGHA BAGH: Meaning Five colors, this Bagh is decorated with chevrons of five different colours. In the same way, similar pieces like Satranga, the 'Seven color Bagh' are also available.
MEENAKARI BAGH (or Ikka Bagh): This Bagh, often made of gold and white colored pat, is decorated with small multicolored lozenges referring to enamel work (meenakari) or to diamond shape of the playing cards.
Images by ~ Nanhi Chaan Foundation