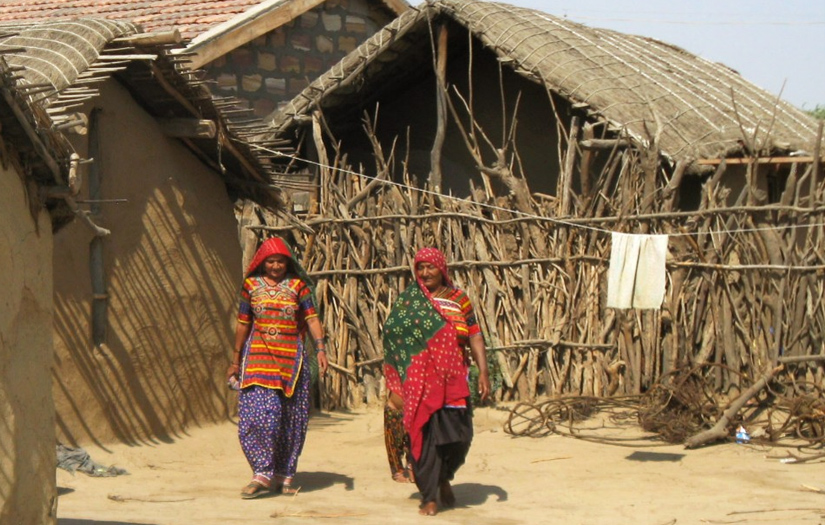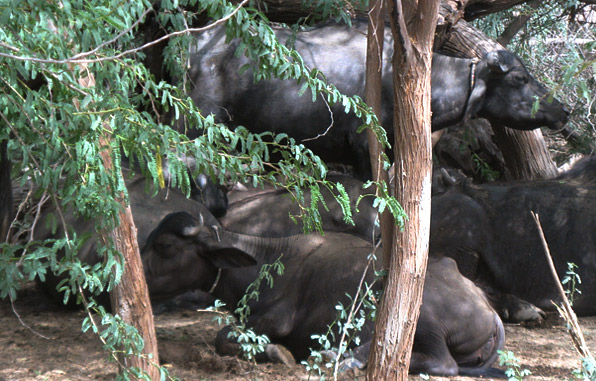 Long stretches of Babul… small mud puddles circled by pastures… offering a quick swim to the cattle… It's calm in here as she swings herself in a hammock anchored between two trees… watching the pale sky change colors… letting her imagination ponder… This is the best time of her day! Birds in huge swarms make splendid patterns on the dusky blue sky… they seem to follow a rhythm they are so attuned with, that they bring joy into being… like the consistency of her swinging is bringing to her at the moment, slowly taking her into an apparent slumber… She is not asleep… just slid into a world where she is more connected with every detail of her surroundings than she is with her eyes open… and she draws out threads of her assortment & a few half-done pieces of her life… each awaiting stories to be fulfilled…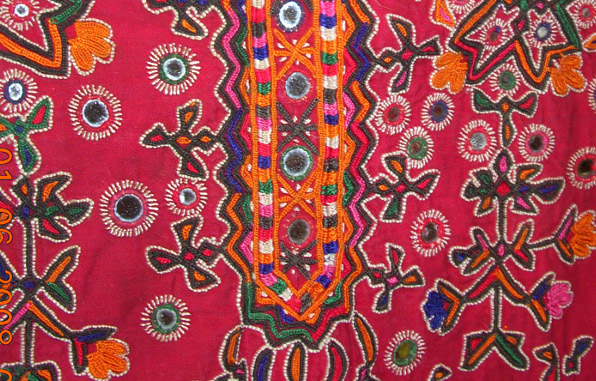 Mutwa embroidery kutch
The needles go in & out rapidly, capturing every little image around… the flow, the colors, everything strikes a balance with nature just so intuitively… Those far distant scapes now sit eloquently between her threads. And the fading horizon triggers her curiosity… leaving her puzzled more than ever… "What lies beyond these?" A trail of thoughts gets a break as she hears some voices from the shade of another tree… She tunes herself in the direction to gather what the men have to say. They talk of the places she has never been to & people she has never met. Thirsty for stories apart from her mundane mortal life she tastes fresh nectar. A mouthful every time she feels like, dipping into the unknown world through a little window under the shade of the tree & filling up gaps of her half embroidered imagination… with stories of known & unknown… soon becomes a routine…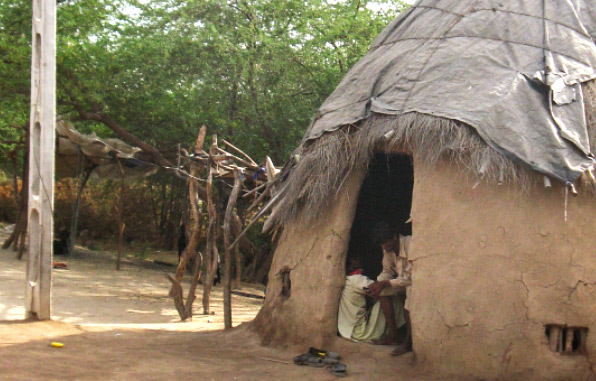 Gathering her figures and drawings from both the worlds she is reminded of the beautiful womenfolk of her land, the garments they wear and the unique ornaments worn by them… Bhori- the motif on a nose pin that sits and sparkles like a star on an earthy terrain of her nose, Kanjari- women's upper garment that hangs like an art panel in front, Chopad – the four-sided game they play, the Gul & Butti (flower & creeper) arrangements that she notices around, Golaido – the bulbous little flower of Gourd (Cossignia Grandis)… all make very intricate and attractive layouts on her fabrics… With imagination at its epitome, she invents unique border designs for their minuscule level Farura (the border), on contrary to that another border design known as Molado-  border inspired from the pattern on their wooden pestle, also finds place.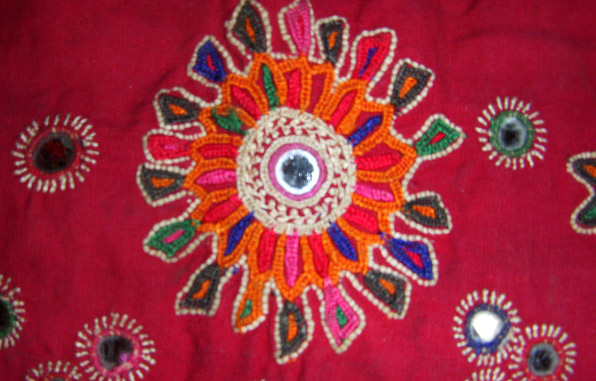 Meanwhile, minute chain stitch adorns the outlines and starts filling within, tiny interlacing stitch starts working to fill the motifs and bits of mirror place themselves in the center of the motif, with buttonhole stitches holding them there. Pakko – is what the amalgamation of stitches is called. Other needle and thread arrangements such as Romanian, Detached chain and Back-stitch employ themselves quickly to accentuate the main stitches. In addition to the above, there is another style of embroidery known as Kachho – which is generally seen adorning the Kanjari (top garment) of the ladies above 50 years. Kachho consists of single and double satin stitch, outlined with a back stitch. Mamsaigaj (the traditional name for Mushru) the most auspicious fabric for Kanjari is embroidered with cotton threads called- San. The stitch consists of single and double satin stitches, outlined with back stitches.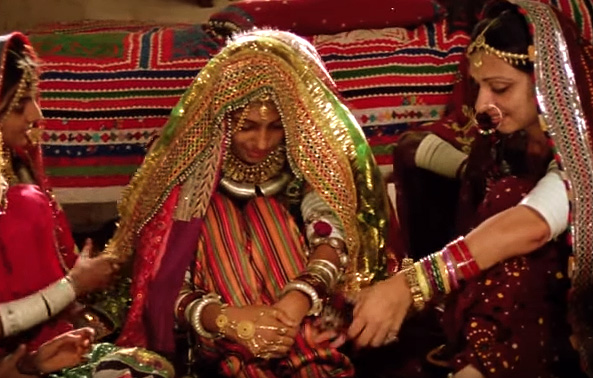 These motifs and threads seem to grow as she grows; taking shapes witnessing various phases of her life as she embroiders and wears them. Like a fully blossomed tree in young age, she wears densely embroidered upper garments with vibrant thread work, with the glitter of the mirror (Tak) on them. Embroidered attires, as well as accessories, are exchanged during cultural rituals such as weddings. Contrasting color variations attained through an intuitively selected bright pallet… a composition of creative motifs and shiny hues on a solid colored background that fills exuberance in life… These arrangements seem to coincide with facts of her living condition in parched lands. Her embroidery sets a contrast to the overall impact of the locale… the contrast that she desires to bring into her life, her society… In such magical ways, the characteristics of the embroidery are defined… the Mutwa embroidery… the embroidery of a girl who travels far in her imagination while social confines keep her within limits. In line with the tree's life, as she matures, she gradually loses interest in wearing extensively decorated clothes… the quantum of her embroidery seems to be mellowing to a more subtle form. However, a little ornamentation on her apparel constantly stays as an indication of times in her life when she was carelessly upfront.
Mutwa often lead a life synchronized with the rules of their immediate nature. Settled in the western part of Indian subcontinent, in the desert of Kutch, these people of Banni are said to have migrated from the land of Sindh. More than 17 sub-communities in the cluster practice vivid needlework with Mutwa, leading them all with their vast imagination and intricacy of work. Apart from their main livelihood as cattle herders, the women constantly get back to their only creative expression in leisure time. Their need to decorate clothes is by heart lined with the behavior of their environment. Mutwa embroidery is also misunderstood as Aari work. The craft and its practitioners are affected in recent times due to increase in footfall in the cluster. As degradation in soil composition affects the growth of trees, similarly change in basic garment silhouettes because of increasing interest of tourists in visiting the village has forced the community to bring changes in their dressing style, which has further affected their embroidery layouts.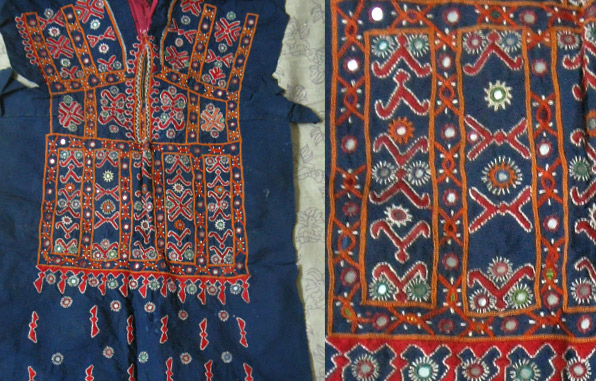 These pieces of self-expression, only to be kept and passed on through generations as souvenirs are now beginning to fall into the hands of buyers and are also now made to order. The quality of work is decided in accordance with the payment offered by the client. To take the example, Pakatadi– buttonhole stitch or scattered Romanian stitch embroidered around mirror has two versions- Regular and Sarkari, the latter being of less density. It is said that amongst all embroidery practicing communities they receive the highest payments for their work.
Sieving through these details she often almost habitually pulls herself out of them to take an overview of what is beginning to form … and she finds strange things in her own patterns… the grids laid out by her are no longer reminiscent of any creeper, they look like a network of straight and meandering roads to her… on which rows of beads perfectly stand as people, the tiny mirrors right in the middle of those square neighborhoods, reflecting sky are ponds… flora, the green patches in and around these neighborhood clusters… she sees the sparkling glitter on and along the trails as the lights of the vehicles transporting people in and out of the city… "City!" But when did she ever go to one to know how it looks… Was she hallucinating? A distant singing of a hoopoe falls onto her ears, as though assuring her of her sanity… she felt heard… without even having to ask for it… but there were still more complex worries that she needed to discuss… how would she convey them or how would he be able to respond to them in his single tone singing… Interrupting her thoughts again she hears a friend call… feels heard again… but she knows that her questions are not what any of them would be able to answer… that they would only pull her back into the mundane… where she feels choked… and she wonders…
why is it that despite being able to enter the deepest realms of her thoughts and knowing her secrets and being able to respond to them, the hoopoe lacks the accuracy of knowing what she really wants… The thought brings a momentary smile on her face as she sees a momentarily stupefied hoopoe standing in front of her… to stay only till another cloud of thoughts gather around her eyes… In gamut of stars… and beyond! Beyond infinity… flowing over planets… She has loved exhaustively…Infinity! Infinity! A word of the other world… slips into proximity… in her slumber… earworms into his head quietly… loafing around… all he can sing now is… In-finity! Echoing very much within her closed finites … She wonders… she wonders again… Why are so many days, months, years numbered infinitely then… when life only occurs in moments? What is the meaning of feeling infinity and living only in close finites…
Information & Images by – Kruti Dholakia
Image 4 & 7 form Bollywood Movies – Mujhse Dosti Karoge