A livelihood, a dying craft in the barren hamlets of Rajasthan once more saw the light… and this is how…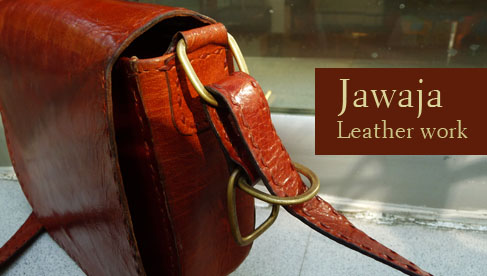 Even though they had some agriculture, albeit unsteady, leather work was the main occupation of the Regar community. They live in the draught prone areas around the town Beawar, Rajasthan. Traditionally, they have been experts in the tanning of hides and making strong leather products like mojaris (shoes), saddles and harnesses for animals. This 300 year old leather craft was given a new lease of life by the efforts ofRavi Matthai of IIM and Ashoke Chatterjee of NID, Ahmedabad, in 1975.Jawaja Leather Association was formed, craftsmen were given training in new techniques of processing leather and designs for new products, and then, there was no looking back. Jawaja leather is a flourishing craft now, with its unique identity and style, and is becoming known across the world.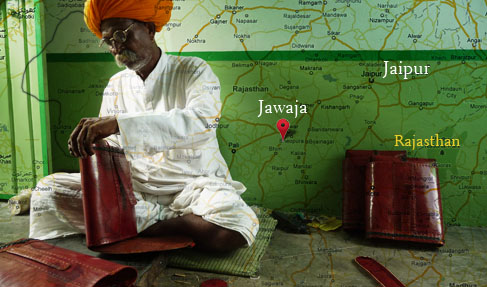 From processing of raw skins to the finishing of the product, every process is done without the use of any machines, in the houses of the craftsmen. The use of new techniques considerably reduced the odour of leather while it is prepared; therefore the craftsmen are able to work at their homes from start to finish.
Raw buffalo skins that are sourced from nearby towns of Nasirabad and Raipur, are first soaked in a solution of lime (choona) and sodium sulphate for about 15 to 20 days. This removes hair from the raw skin and prepares it for further processing. The hides are stitched at the edges with a local grass, known as moonj, and filled with salt water and babool bark powder for the process of veg-tanning. This solution is changed around 10 to 15 times, until the hide becomes stable and watertight. The hides are then sun dried and polished with oil. After some scraping of the underside and dyeing, the hide is ready to be turned into the most desirable products.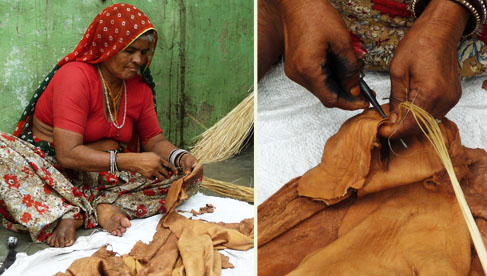 Craftsmen gather in each others' houses and courtyards to work; friendly chats accompanying chores. Bags and accessories, some in new designs and some in old ones, are handcrafted by the men and women, who divide their work equally. The beauty of Jawaja leather work is that it is not just handcrafted from start to finish, the leather products are evenstitched with leather strips instead of threads. Two layers of leather are first stuck together and then stitched by punching holes with awls, or large needle like tools, and leather strips are made to pass through the layers, binding them together. The leather stitches have a characteristic diamond shape that adds to the understated elegance of these leather products.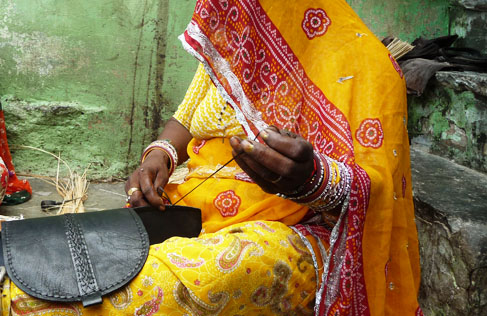 Even though one medium sized bag can be stitched in one day, with the involvement of two people, the processing of hides for preparation takes up one month and a lot of involvement. The outcome is sturdy leather, which lasts years and ages beautifully. While some of the classic designs created at the beginning of Jawaja project are still popular, craftsmen have developed products like laptop bags and accessories for a newer market.
The craft that was revived with the formation of Artisans' Association of Jawaja now prospers, but also faces new challenges. While environmental pollution continues to be an important issue, theyounger generation may be losing interest in this traditional craft. Many now have salaried jobs in nearby towns. Yet, as exports of these classy leather products rise, growing international acclaim will make this craft thrive for many more years.
For more Detail ~ Gaatha.org