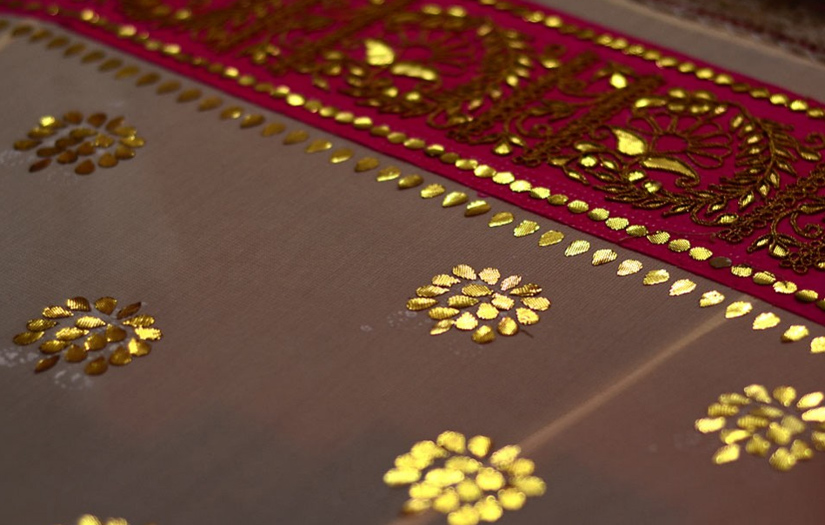 The stunning Gotta Patti work on the ethnic wear of the Rajasthani womenfolk is a spectacular embroidery involving an array of techniques. This process of fabric ornamentation involves applique work with small cut pieces of golden lace.
Traditionally done on dresses, dupattas, sarees, ghagras and even turbans for festivals and occasions, gota work is now loved by women of the world for the touch of royalty it gives to anything it embraces.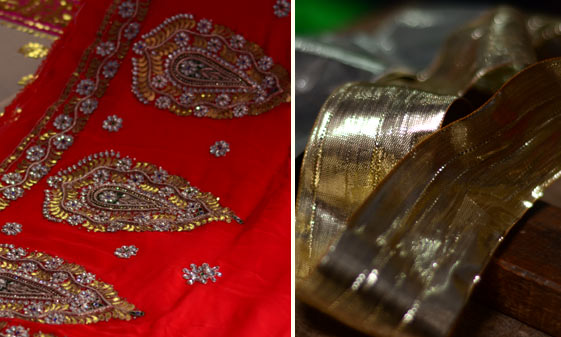 Gota Patti work, also known as 'Aari tari' or 'zardozi' or 'Lappe ka Kaam' has traditionally been used for a variety of garments and textiles used by the royalty, members of the court, temple idols and priests, as well as for altar cloths at shrines and prayer offerings. These Gota ribbons were woven with a wrap of flattened gold and silver wire and a weft of silk/cotton thread and used as functional and decorative trims. With the subsequent substitution of pure gold and silver with gilt or lurex and the mass production of gota on power looms at Surat and Ajmer, gota came to be used by all communities and castes of Rajasthan.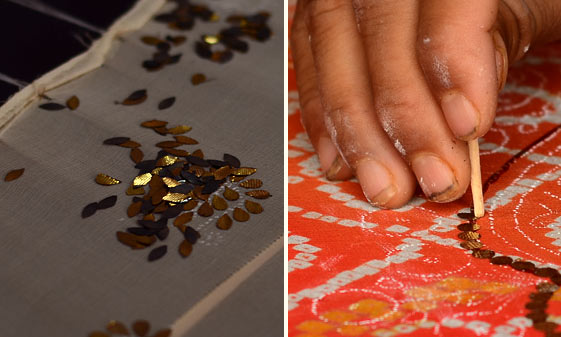 Raw materials like fabric and gota are available locally. Tie-dyed georgettes, pastel chiffons, tussar silks, crepes and khaadi-cottons are commonly used base materials. Firstly, the fabric is tied to two sides of a wooden frame (khaat) using thick cords.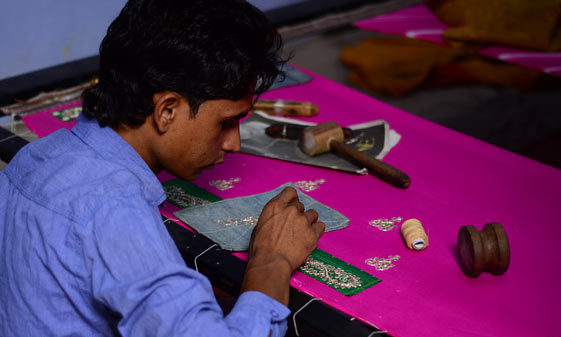 The pattern to be embroidered on the base fabric is printed, the process is called Chapaayi. Tracing paper with perforated pattern known as 'khaaka' is placed on the fabric and rubbed with a white paste of chalk powder, making the design appear on the fabric.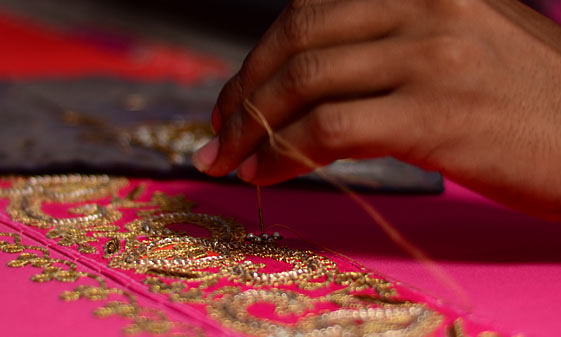 'Takaayi' is the process of stitching Gota on the fabric. 'Gotapatti' is actually the cutting and folding of these tapes into basic rhomboid units, referred to as 'patti' (leaves), and combining them to create elaborate motifs. These designs and motifs are inspired by nature, birds (peacock, parrot, sparrow), human figures (Bani thani), animals (elephant, horse). Contemporary designs like paisley, geometrical patterns, palanquin, checkerboard are also in fashion.
These motifs are structured into buta, butties and cut into various shapes likes flower pot (Gamla), Keri (Mango) and champak flower and stitched with the base fabric by chain stitch or by hemming. A very unique part of the history of this craft is the use of blue-green metallic coloured shells of a particular variety of beetle for the ornamentation, amongst the gold and silver of the embroidery. This was exclusively done for the royalty.
Read more about Gotta Patti ~ Gaatha.org
Buy online ~Shop.gaatha.com