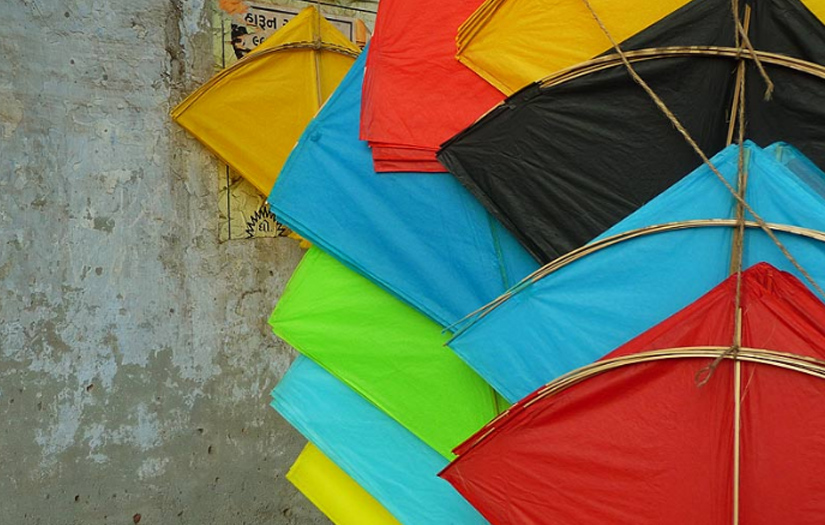 In the pleasant chill of January, when the sun enters Capricorn, the sky gets filled with vibrant colours and the air is full of "kaipo che"; this is Uttarayan in Gujarat, INDIA.
The name Uttarayan comes from joining two different Sanskrit words "Uttar" (North) and "ayan" (movement towards). Uttarayan, or Makar Sankranti is the day when the sun starts to travel towards north as a sign of coming summer. It is celebrated all over India, but is known as as Lohri in Punjab, Pongal in Tamil Nadu and Uttarayan in Gujarat, INDIA.
Uttarayan is also marked by a kite festival, in which people from all over the world gather in Gujarat to fly kites of wonderful shapes and sizes.
But the skyline is mostly filled with the small "fighter kites" that have a sharp string to fight with other kites. They soar high in the sky, sometimes fighting and sometimes being defeated, ending up stuck on trees, or hanging on cluttered electrical wires, or sometimes become a prized find by a little kid.
These kites that come for 2Rs. a piece, each of these are made completely by hand.
Every little process in making a kite is done by different people. The bamboo for the frame comes prepared from Assam. The only mechanical intervention would probably the use of die cutters for cutting the paper in large quantities.
A thread is put at the edges of the kite for strength, then the frame is stuck to the paper and finally the tail and bits of paper to hold the frame are stuck to the kite. The glue used to stick the components of the kite is also home-made, with water and flour (maida) paste as the main ingredients.
The thread used to fly the kites is coated with a mixture of glue, colour and powdered glass, to make them strong and sharp enough to fight.
Around the time of Uttarayan, the entire marketplace comes alive with colour and going to buy a kite becomes an occasion in itself. Apart from the innumerable colours and many shapes of kites, different types of manjas (strings), many other accessories are also sold. These include protection gear like tapes to protect fingers from the glass coated string and sunglasses to adhesive paper tapes for repairing kites to articles for pure entertainment such as blow horns, headgear and masks.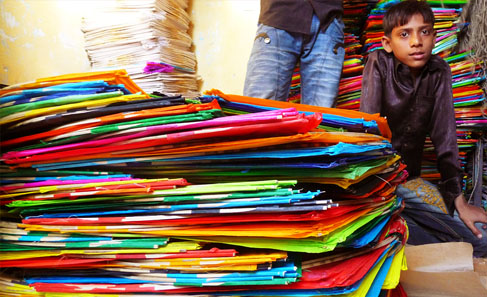 Twenty kites for Rs.40…these colourful symbols of joy, of excitement and playfulness, of hopes of brighter days..; the next time you fly a kite, remember that it is also a hand made craft that takes care of three months of livelihood of their makers.
~Shivani
For more detail – Gaatha.org