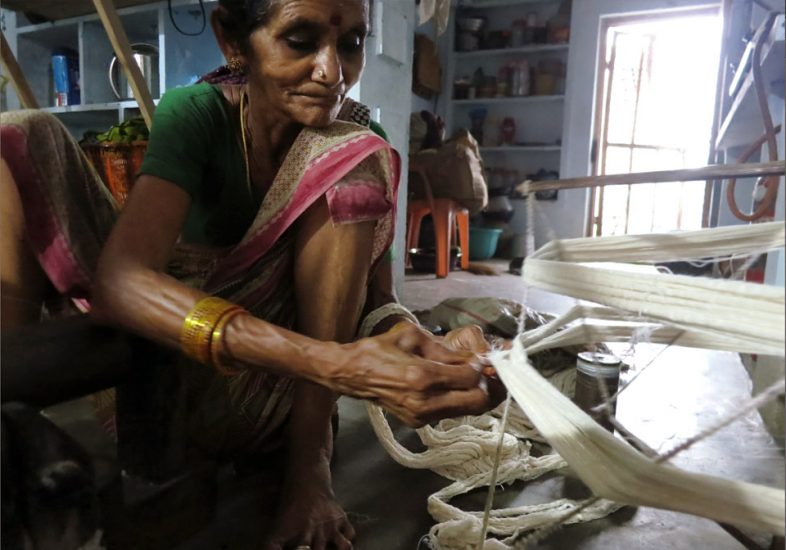 Green landscapes, enormous domes touching the skyline, traces of a royal legacy… fascinating street markets are a sight to behold. Andhra Pradesh is celebrated for its rich and multi-faceted cultural history. The rich cultural heritage, ancient architecture holds a historical importance. Its rich cultural heritage is deep rooted in the lives of people here. The state patrons many well-known crafts such as Kondapalli, Kalamkari Paintings, Nirmal Paintings, Bidri & many more. It is also well known for its hand-woven textiles, since ancient times the weavers of the state have expertise in producing the most exclusive hand woven sarees and dress materials with delicate and distinctive designs. The borders of the sarees are adorned with thread work and mostly these threads are made of either gold or silver. These handloom works are named after the place these are made in if not something else. The looms of Pochampalli, Venkatagiri,  Narayanpet and Dharmavaram are well-known for their silk and cotton sarees all over India. Each loom is recognized with its distinct weaving style and variety of fabric. In Andhra Pradesh and most other southern states, cotton and silk are the two most preferred fabrics. Some of the famous handlooms of Andhra Pradesh are as follows.
Kalamkari is a unique art of painting cotton or fabric with a Kalam i.e. pen. It is an ancient style of hand painting that is done with a Tamarind pen, using natural dyes. In Andhra Pradesh; Machilipatnam, Polavaram, Pedana and Vijaywada are involved in block printed Kalamkari & Srikalahasti of Chittoor district in hand-painted Kalamkari. Kalamakari was born out of an art of story-telling by using rich & classic colors to portray stories from Ramayana and Mahabharata. Common motifs drawn are flowers, peacock, paisleys etc. The Kalamkari fabrics are well known for their beautiful designs on carpets, bed sheets, wall hangings, sarees, table clothes and curtain clothes and were once traded to Europe and Gulf against gold.
In Andhra Pradesh, cloth patterned by tie-resist-dyed yarns is known as Paagadu Bandhu Chitki, more popularly known as Ikat. Ikat was initially woven in Chirala, a coastal town in Prakasam district, which had a flourishing market in the 19th century for Telia Rumal or suqare cotton. An increase in demand from the export markets helped spread the craft to Pochampalli & later to its neighboring villages. Over a time each village developed a specialization: Pochampalli in silk saris of both single and double ikat, Puttapaka in fine cotton, silk saris and yardages, Gatuppal, Chautapal and Koyalagudem in cotton and silk yardage for furnishing and shirting. Weaving is a full time activity, often the entire family being involved in the craft. Simple geometric designs, multicolored patterns, stripes and chevron forms are dominant patterns.
Chirala is a coastal town in the Prakasam District of Andhra Pradesh. The place was formerly known as Kshirapuri because of the milky white color of the sea. Chirala is famous for its diverse range of fabrics & the technique used for making them. Here, a large amount of oil is used while preparing yarn for weaving. Once the fabric is ready, it is wrapped with wax & clay & later dyed. Chirala is famous for its bedspreads, curtains, tapestry fabrics and sarees. During old times, the rural artisans of Chirala would weave a 7 yard saree which could fit in a match box.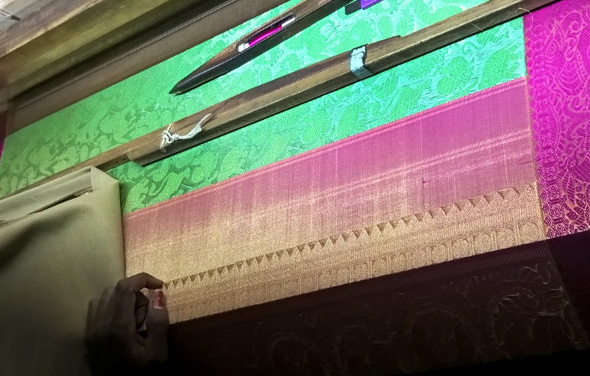 Dharmavaram a small town situated in the District of Anantapur of Rayalaseema region in Andhra Pradesh, also known for its Leather puppets. The cluster weaves a range of cotton & silk saris with its silk saris popular all over the world. This elegant sari comes with a broad interwoven zari  border showcasing motifs of the Lepakshi temple and Latha Mandapam making this sari unique. These saris also make an essential part of the bridal wedding trousseau. Many evidences of the origin of Dharmavaram saris can also be found in the roof paintings of Lepakshi temple near Hindupur.
Venkatagiri Saris are woven in Venkatagiri, a small town of Nellore District Andhra Pradesh, India. These are superfine pure cotton saris adorned with motifs in gold thread all over & its border embellished with pure silver zari or brocade designs, woven in Jamdani technique. Their fine weaving, dates back to early 1700 when these saris were produced by an artisan known as Kali Mili. The weavers back then used to weave these saris only for the royal families. These are one of the softest and most durable south saris in India. They are usually of six yards and are suitable for all climates. The distinctive feature of a Venkatagiri saree is a big Jamdani motif of a peacock, parrot, swan, mango or leaf in the pallu.
Eluru is illustrious for its flourishing woolen carpet industry. Back in the old time, these were woven with low density knots mainly in white, black, brown, grey etc. These were known as Hasham carpets and gradually a multiple colored palate was introduced with the intervention of designers. The colors now range from pale to deep reds, blues to gold. It is believed that carpet weavers from Iran have introduced this craft to Machilipatnam and the skills later moved to Eluru. The designs of the carpets are named after the person who created them. Thus, very often they are called Hussain Khani, Amarkhani, Tabrioz and Kiraman. Today, the craft has become a major part of Andhra handlooms and most of the carpets manufactured here are exported.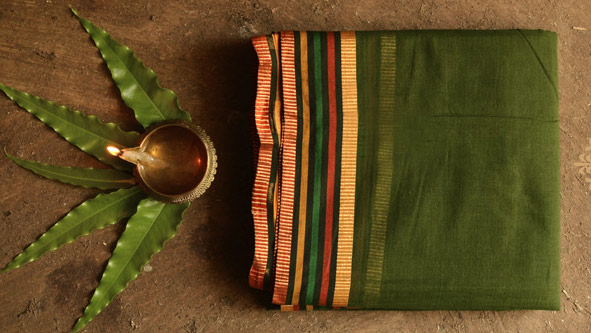 Mangalagiri Saris are woven in Mangalagiri, a town in Guntur district of the Andhra Pradesh. The town is popular not only for its temples but also for its elegant cotton saris & dress materials. These saris can be easily recognized by their border, which is emphasized more than the body of the saris, which is usually woven in a single color.
Uppada Saris
Uppada Silk is named after a small beach town of Uppada in East Godavari district of Andhra Pradesh, India. Also known as Uppada Pattu (Silk in Telugu), Uppada Silk saris are woven in Jamdani technique. These saris are famous for their zari work in beautiful designs. Padmasali community is the major caste here engaged in the weaving of these. One can purchase these beautiful saris at Peddapuram and Bandarulanka.
Narayanapeta is a small town in the Mahabubnagar district of Andhra Pradesh. The place is well known for its saris and these saris have quite a resemblance with the Ilkal and Solapur saris of Maharashtra. These saris have a layered or patti border with a broad pallu which is known as Top-tenni pallu. For most of the saris, the pallu is woven in contrasting colors that match the border.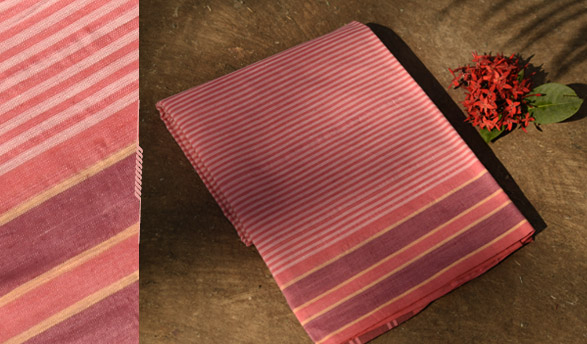 Madhavaram is a small village situated on the banks of river Penna in the Cuddapha / Kadapa district. Madhavaram saris have petu border with jacquard or Zari pallus. Woven in bright colors, these saris can be used for daily wear as well as occasional wear. Especially for the brides, the weavers of Madhavaram weave a 6 yard long sari. Moduga Puvvu from the nearby forests is used to reddish border color to be used in the bridal saris. The weavers use vegetable colors for dyeing and thus contribute in saving the environment.
Bandarulanka is a small village in East Godavari district in Andhra Pradesh. This village is famous for its beautiful handloom sarees. These are simple cotton sarees woven using 80s count yarn and come in contrasting colors which vary from pastel to dark shades. There are highly skilled weavers whose families still depend on this skill for their living. It's more of a family heritage which is carried further from generation after generation.
The Telia Rumal is a square piece of cloth with patterns created by the process of tying and dyeing the threads prior to weaving. After dyeing, the yarns are treated in oil to give them a deeper shade of red thus imparting an oily texture and smell. The square cloth measures 44 x 44 inches which was used by the fishermen of Mumbai & Andhra as Lungi, turban & shoulder cloth. The most common motifs include Mathikai, a local fruit and Mallipu or jasmine. Telia Rumal has been the mainstay of Ikat in Andhra. The craft was originated in Chirala & later on the skill spread to Nalgonda district where Ikat weaving is more vibrant than in Chirala today.
Buy Handloom Saree Online ~ Shop.gaatha.com