'Jab pyar kiya toh darna kya…."

Mirror Inlay Udaipur
The landmark number from Mughal-e-Azam puts in front of us a thousand Madhubalas dancing in chorus in the beautiful mirror embellished Sheesh Mahal, also the first song in the history of Indian cinema to bring colors on the otherwise black and white screen….In this post we are going to talk about the very craft that led to the magic of creating thousand Madhubalas out of one…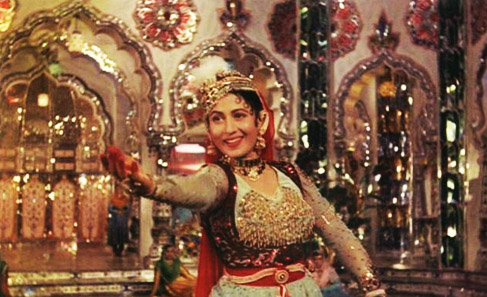 The history of mirror mosaic work popularly known as 'inlay' in India goes as back asthe Sheesh Mahal (palace of mirrors) constructed by the Mughal Emperor Shah Jahan in 1631. Adorned with pietra dura (stone inlay) and complex mirror-work of the finest quality creating gleaming effect in the royal halls and courtyards, the Mahals of Rajasthan are a reflection of the sumptuous lifestyle of the Rajput royalty in medieval times.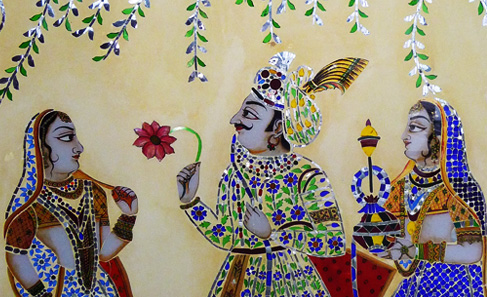 To replicate the regalia and opulence of the palace, many a rich Marvadi merchants of Shekhawati got numerous skilled craftsmen to embellish their Havelis and mansions with the most exquisite colorful mirrors from Belgium. These architectural beauties painted in rich colors belong to the 18th, 19th and early 20th century.
However, besides beautification some of the logical usages of this art both on the exterior and the interior walls respectively may be visibility and vigilance.
The craftsmen first make a real scale fair draft of the design on paper and stick it on a wooden plank. Then using the diamond cutting tool, the colorful glass pieces kept on the design are cut to acquire the required shapes. These shapes are stuck to the paper base at their position and the remaining grooves between the pieces of glass are filled with a paste of marble powder and glue.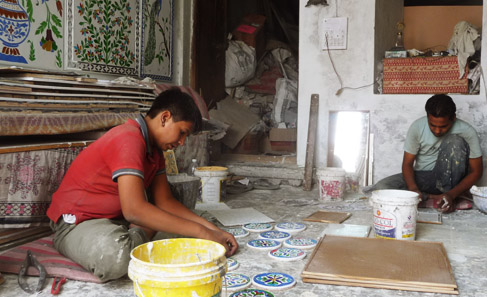 While the glass markets of Delhi and Faridabad suffice the requirements of the inlay craftsmen, some special mirrors are still called from Belgium on client orders. In special cases as the design may require, the art work can also be accomplished in three-dimention For eg. On a fountain sculpture, on curved ceilings or alcoves. Use of convex/concave mirror pieces gives an embossed effect to the glittery art work.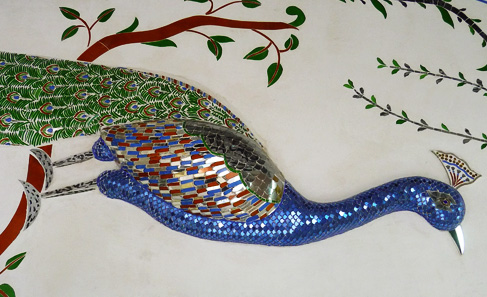 The practice of decorating the walls of the human dwellings with paintings, sculptures, relief works, mirror works is age old, though the expression may be different. Coming to the present day context the mud finished walls of the village households of Rajasthan and Gujarat, the walls of temples and Hotels are decorated with minute colorful mirror chips creating forms like birds, flowers, leaves, vessels and so on….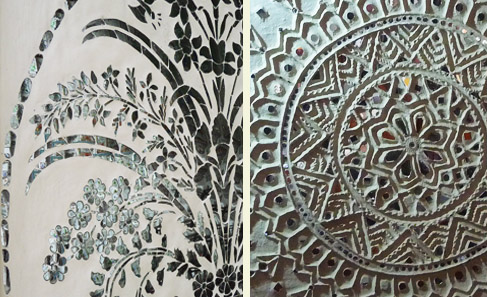 Mirror work at Rajasthan and Kutchh Village
This multifaceted multicolored craft from Rajasthan has attracted the attention of the art lovers across the globe, giving craftsmen like Rajesh Maheshwari an opportunity to display their skills to create awe-inspiring experiences out of an inexpensive raw-material (glass pieces from redundant objects and leftovers from the industry are also used).
The first sunshine of a new day, entering the mirror clad gateway… brings with it… surreal shimmers, resonating in the halls of the palace ,the message of a brand new beginning and peeping through the tinted window panes , sprinkles splash of colors silently merging into the floor….
Read in detail ~ Gaatha.org
Buy Online ~ Shop.gaatha.com