Motifs of Joy in the Fabric of Time….
And the story begins in the womb of a snow clad valley…. where winters are severe, and making of wool cloth a practice from time immemorial… Reposed within, women of the household keep spinning Pashm into fine yarn…. fingers tending to the susceptibility of its gossamer fineness… it is a true celebration of seasons, warmth within algid winters… the pleasure of living in a humble mud and straw textured abode…. where, sunlight plays soft music on walls… Kashmir is but in these divine tender feelings, seeking out greatness in humility…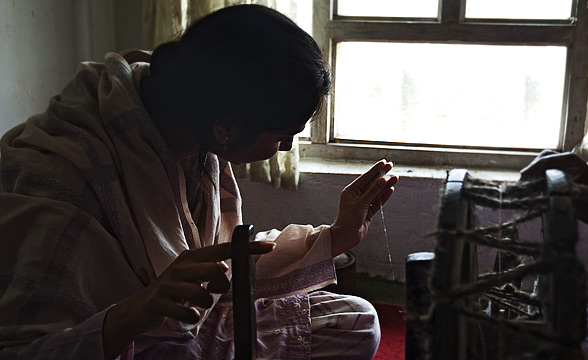 "…a country where the sun shines mildly….. learning, saffron, icy cool waters and grapes rare in heaven, are plentiful here – Kailash is the best place in the three worlds. Himalayas is the best place in the Kailash and Kashmir the best place in the Himalayas."
– Kalhana on Kashmir
Pashmina weaving is to Kashmir what Art is to Man… inseparable and ever flowing…. and in that perennial river of musical notes… some stand out more beautifully than the other…. And then there are symphonies!…. Timeless and desirable, irrespective of influences, fashions and trends that are transient…. defying the impermanence of beauty… Kani weaving is that masterpiece in the realm of Pashmina…
Much like any other masterpiece born out of observing time…. this too appears as a result of counting seconds in strings of warp and weft…. crossing over again… and again….and again….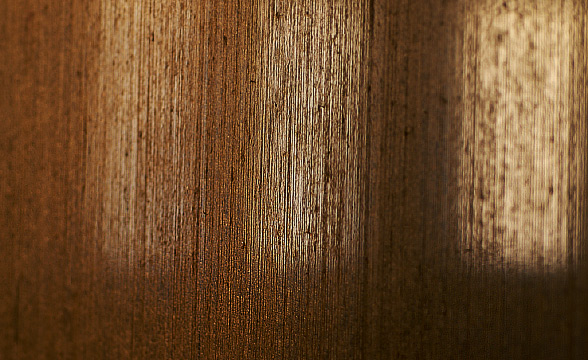 And time emerging as a surface overlap after overlap…. until someone desired for every second of life to be colorful… every overlap to be a new color… and every emerging pattern to be organic…. breaking the rigidity of lesser conceptions of geometry…. in an utter state of yearning to mirror the essence of its country…. of its belonging… of that Kashmir sitting like a little girl in the lap of her mother…. Kailash… ingesting wisdom from her singing…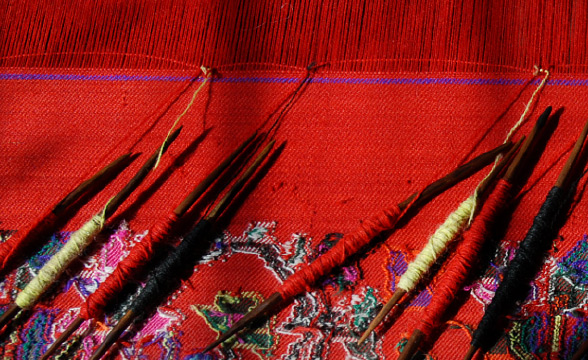 "A second, a second, a second
and another
A cross, a cross, a cross
yet another
I exist in these overlaps forever
Not in years, months, days or minutes altogether
Six Red, two pink, eight blue
and another
Six Red, two pink, eight blue
yet another
I exist in this symphony forever
Not in pink, red, blue or any other hue altogether
A petal, a vein, a thorn
and another
A bud, a bulb, a bloom
yet another
I exist in the essence forever
Not in an insect, a being or flora altogether
A rose, a leaf, a branch
and another
A bee, a bug, a bird
yet another
I exist in these gardens forever
Not at a spot, tip-toeing from one to the other"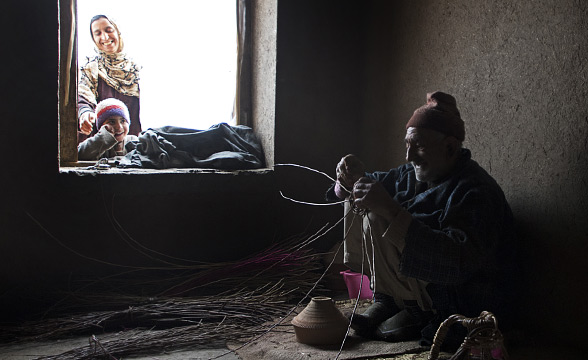 Though, protected by a ring of high mountains, the valley has witnessed its own vulnerability to the outside world… several times over…. only to emerge stronger and better… She springs to life in time…. bustling with excitement as she hears them call her name…. to play all day long…. till the sun sets, to walk hand in hand with the rest of the world, to weave in the fabric of time motifs of joy… just as exclusively as her mother weaves them into those Kani shawls… and those shawls into stories that wrap her warm and wade away all the fears of vulnerability…
"Pashmina shawls of Kashmir come in various forms and types; Alwan is a plain un-dyed shawl woven in twill with the lozenge-shaped pattern…."
"Just like chashm-i-bulbul (eye of a bulbul). "
"Yes! And with hundreds of chashm-i-bulbul on it, it drapes more softly than a plain-woven fabric… "
"…. and how are they made….?!"
"The threads of the warp are arranged on the loom such that the weft thread passes over two, under two, pairing the adjacent warp threads in one unit from another…. as it progresses…. it creates a fine diagonal pattern…. a notable diagonal rib in our shawls… "
"Just like the air-planes that always cross the frame of our window diagonally…." her eyes shining wide…
In agreement with a sweet smile on her lips, mother continues "it also makes it easier to count the threads in pairs for each insertion rather than single threads…. I like it…. because it renders our shawls unique…." "But a single mistake can also have a rippling effect on the whole design…making it of no use! "
"Of no use!… is of all the use to us. The Pheran you stitched me, you said was from the shawl that went wrong…. no one has the same Pheran… on the whole planet… all my friends drool over it… and the roses you made with the needle and thread… are my favorite… "
"And so…. there is the Amlikar, the work of embroidery done on a shawl… by an artisan in entirety…. Stories say that in old times, Kani shawls were large and were made in parts on different looms, as it was a challenge to make a symmetrically perfect one-piece shawl on a single loom. The borders were made separately or the shawl was made in two halfs or four quarters and these pieces where seamlessly put together with needle and thread work by a Rafugar… until in early 1800, an enterprising Rafugar developed this technique to imitate a Kani shawl using a plain Alwan shawl as base. Over a period of time Amlikar as a technique evolved to stand on its own and created its own style of motifs and patterns different from Kani. We know them today as Sozani shawls…"
After a long journey, on its arrival from the high plateaus of Changthang, Ladakh; this raw sheep wool is no more than a soiled mass mixed with coarse hair and dirt from the animals' outer coat. To transform this unpromising material into a fabric of super finesse, embellished deftly with patterns as delicate as the flowers they recall takes all the imagination and skill of Kashmir's spinners, dyers, designers, weavers and embroiders together.
Mother gets herself busy in crafting as she watches her carefully…
Separating every fine hair from the coarse hair individually by hand, and then rubbing small pads of pashm with damp rice-flour to remove the natural oils and other impurities. Then combing it straight… like she combs her lush locks before braiding them into fine plaits… She then sits to spin the fiber on a spinning wheel…
"…into a yarn finer than those of the lotus stem… " She recalls from the tender hair of delicious Nadur Yakhni she loves testing ductility of…
"Before one starts to weave a Kani shawl the design or the pattern has to be made. It is given to a Naaqash to draw a pattern… Then it goes to the Tarah-guru or color-caller, who decides on the color combination and calculates the amount of yarn required in each shade before he sends it further for dyeing. "
"Dyeing is a hereditary craft held secretively within the family…. a sine qua non, for the production of these stunningly patterned textiles. The dye ingredients are all organic except for black… the chief onces being Indigo for shades of blue, lac and kermes both derived from insects for reds, yellow from saffron and many others… "
After she fixes the warp onto the loom, Tarah-guru is called again to correlate the design with the warp-threads…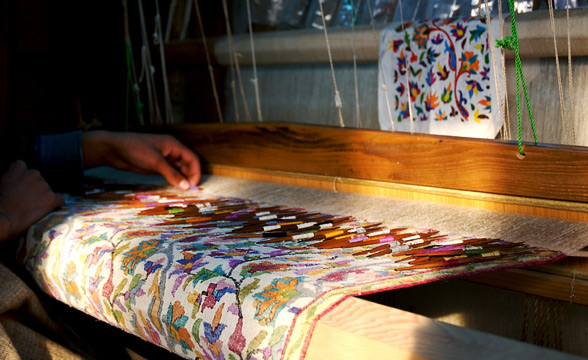 "They have to be covered by colorful wefts in each line…. precisely!"
At his dictation, the Talim-guru transcripts it down into a coded script – "Talim" This method of recording an intricate pattern into coded colors onto a thin strip of paper is an arcane practice unique to Kashmir's Kani shawls and carpet making.
She inserts the weft between the warp threads, not by a shuttle, but by a series of bobbins loaded with yarn of various colors… also seen on the design sheet.
"This double-interlock technique in which the classic shawls of Kashmir are woven is know as Kanyekaar"
"Why is it called Kanyekaar…?"
"Kané…. Tillé… Tujjé…. essentially a twig with yarn wound around… become the eyeless bobbins to insert the discontinuous wefts…. and therefore after the name of its prime tool…. it is called Kanyekaar… or Tillekaar… or Tujjekaar…. "
One line of weft has hundreds of these insertions of colors depending on the complexity of the pattern. These weft-threads make loops around each other in successive rows, creating a firm and permanent joint, giving a clear boundary of the color-change on the visible right side of the fabric. It leaves a minute nub where two colors meet creating a ridge on the bottom or the wrong side.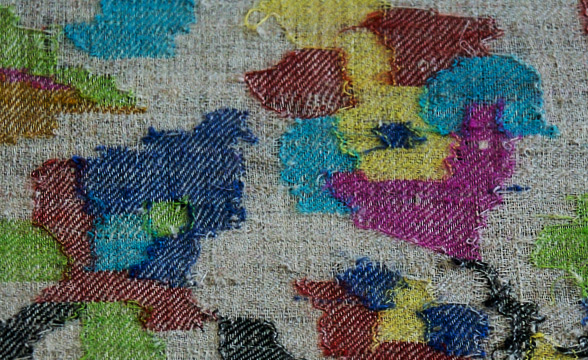 "This nub can be eliminated with a single-interlock joint, creating a surface with no wrong side at all... And we will have a very delicate double sided Dorukha!"
"A shawl usable from both sides..?!"
"Indeed… a very rare kind…"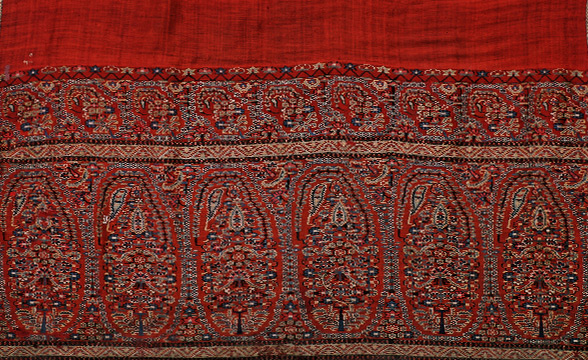 Talim-guru directs the weavers by calling out instruction from Talim…
"(lift) 6 (pairs of warp-threads) (and insert) red; six blue, four pink, two black"
Singing it aloud to many looms to weave multiple shawls at the same time…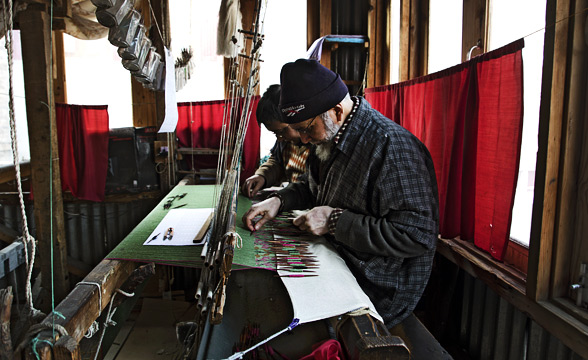 "Six red, two pink, eight blue… Six red, two pink, eight blue…
Eight red, two pink, six blue…. eight red, two pink, six blue….
Four red, 4 pink, six blue… Four red, 4 pink, six blue…"
And it goes on and on…. For a rose to bloom onto the warp… And goes on for months for the garden to spring…
…………………………………………………………………..
Pattu, a tweed-like fabric made traditionally
Pheran, a unisex garb worn during winter to ward off the chill tailored out of Pattu…
Chadar or Loi, a blanket made of Pattu, which is very rare to find today….
The Chadars bore narrow, color-patterned borders known as Zanjeer (chain), woven as an embellishment in contrast to the un-dyed grey of the rest of the Loi. The border was made using small bobbins each carrying a different color…. the only difference to the shawl was it did not use double interlock between two colored threads… patterns formed were invariably geometric involving diagonals.
Amlikar…. meaning; 'worked' by a single artisan to create brocade or embroidered shawls…
The origins of this distinctive technique of Kashmir shawl weaving has been speculated as it bears little connection to any Indian textiles, but has an exceptional resemblance to Termeh of Iran in its use of twill weave. But evidence is scarce and it might have rather been exported to Iran from Kashmir, as quoted by scholars…
The basic process of manufacturing a Kani shawl has changed little since William Moorcroft documented them in 1823.
Read more about weaving ~ Gaatha.org