Immortal Bones (Bone Carving)
Life goes on. And it evidently does in case of those whose privileged bones pass through the hands of the carvers of Lucknow, after life soul has left their carcass. Bone carvers of Lucknow & Barananki have been carving spell binding intricacies over centuries now. From adorning the royal courts of Mughals to finding a special place among Nawabs, they have seen it all! Well-crafted Jali works with floral vines have left behind a legacy of magic & charm. Every household of this small village joins hands to breathe new life into these otherwise lifeless bones. Taking inspiration from all-around carvers strike an intricate balance between past & present.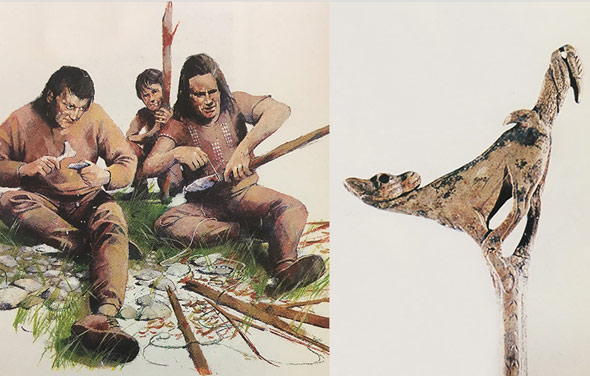 The art of bone carving goes back to pre-historic times, when each & every part of the hunted animal was used & it was believed that a part of the departed soul stays with them forever. Bones were used for making ornaments & utility articles. Some notable prehistoric art figurines like Venus figurine, swimming reindeer were made of bones and ivory. Elements of prehistoric times suggesting excessive use of bone as a raw material for making weapons, beads, combs and other unusual artifacts have been found all over the world. Utility was often merged with unique self-expression to create objects.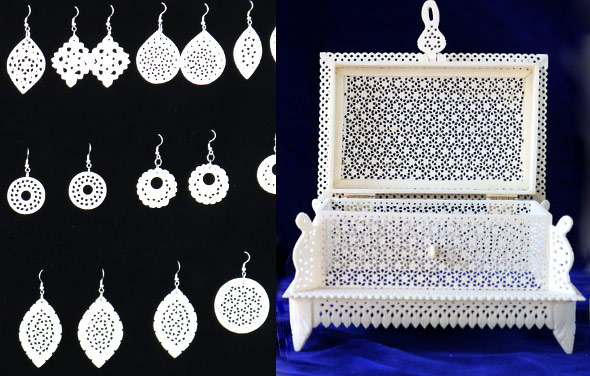 Times changed, man no longer hunted animals for basic necessities. But in-between these changing times the skill that grew found other reasons for manifestation. Intricately carved Ivory fineries, made by the artisans of Lucknow as souvenirs and gifts of the affluent were patronized by the Nawabs of Awadh. Objects of décor and utility were made. Animals that died naturally were put to use. The popularity of these products increased so much that it gradually led to poaching of elephants at big scale. In recent times, government put a strict ban on elephant tusk trade to prevent wildlife. This shortage of Ivory in the market was covered by bone carving, which received an enormous response as an affordable and legal alternative to ivory in Indian market.
The process of making begins with procuring raw material from the market. Bones of Buffalo & Camel are bought from the butcher's shop at the rate of Rs. 3000/- to Rs. 5000/- depending on the quality and size. Four different grades are: Tersoor: A Grade (Rs. 14/- kg), Gola: B Grade (Rs. 12/- kg),  Bhanhu: C Grade (Rs. 8/- kg), Paaya: D Grade (Rs. 6/- kg)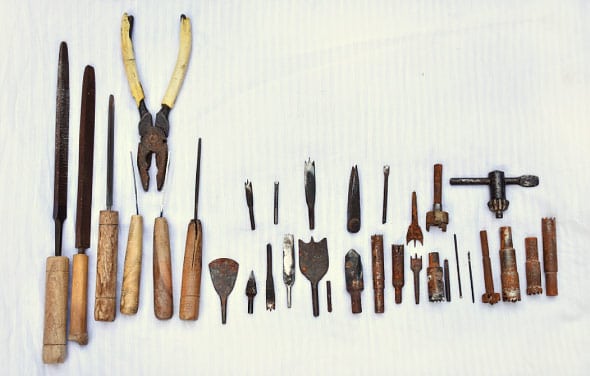 Tools used for carving are Basuli – a hammer used for cutting the bone in desired shape and size, Reti-files & Sand paper – used to plain or smoothen the surface of the bone, Chausi – for carving intricate Jali work, Tekora – for filing small holes of Jali work, Thiya – a circular wooden block used as a base for the Jali work, Prakaar – a compass used for making patterns on bone, Drilling machine – for drilling holes in the bone, Buffing machine – to polish the final product. The process begins with cutting the bone in smaller sizes, once the bone is brought from the market. It is cut with a Basuli roughly into desired shapes. The upper layer of the bone is scraped off for a cleaner, smoother under surface. These cut pieces are further shaped using a cutting machine. After the process of cutting, bones are boiled for 3-4 hours in hot water along with soda to remove fat & other greasy elements from the surface of the bone. This prevents decomposition of bio matter and also helps in removing the foul stench to some extent.
After cleaning, the bones are dipped in a solution of hydrogen peroxide and kept in sun for 6-7 hours. This process is done for whitening the bones. Now, bones are cut into finer shapes & joined together with the help of specially made adhesives. The pieces are dried and ready for marking with the help of a compass. Holes are drilled & carving of shapes as per the design begins using other tools. For coloring, powder paints are used & the product is boiled with tea leaves to give it a brownish vintage look. The product is buffed to bring a shine on the product in the end. The whole process takes around 4-5 days to finish. The left-over bone dust is later recycled & used as manure for the farms.
The craft began with making beautiful boxes to keep presents and jewels in and has diversified into many more areas due to durability of the material and fine craftsmanship of the artisans. Among other products made in bone carving are Lamps, Jewelry, Jewelry boxes, pens, hair pins, Brooches, frames, paper knives etc. With design intervention, the product range has expanded further to Wall Clocks, Pen drive cases, Knife cases, accessories for women, coasters etc. Due to its increasing popularity and demand, artisans of other states like Rajasthan, Odissa, Kerala, Kolkata & Delhi also took to it at one point of time. Bone carving has a history in other parts of the world too.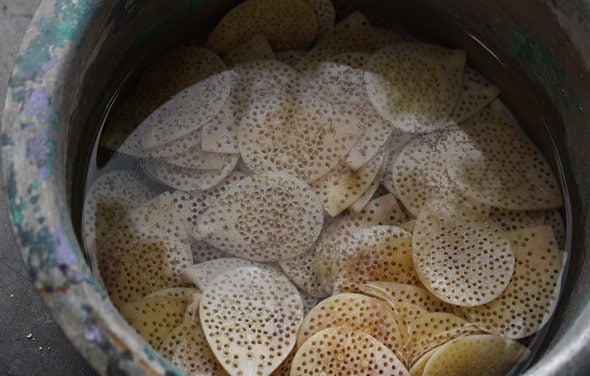 The craft is being practiced in Lucknow & Barabanki since many ages. It is a beautiful but rarely talked about in Indian context. Many expert carvers have won State & National awards for their fine work. These small roofs of Barabanki hold several valuable mentions. A domain mainly of the Muslim community, this craft was also taken up by a few Hindu groups gradually.
Many of the carvers are withdrawing from the craft & shifting towards Chikankari, Mukesh work, Silver work & other crafts for a better livelihood. Ban on bone trade, lack of communication with the Government bodies and retailers are leading to its extinction gradually. There is inadequate and inappropriate promotion of the craft in India but a huge demand in the international market. The need is to bridge these gaps. There are a still few who believe in the craft and that it will stand tall on its feet again.
Documented by ~ Harshit Gupta