Wading through the misty dark waters at the rise of dawn, Azan reverberates across Dal from various small mosques around… a mild alarm sets off to start a new day. A few minutes later, even before sunshine beams through the majestic Zabarwan range, a mélange of boats laden with fresh farm produce and bouquets appears from nowhere. This is the floating market on boats know as Go-e-dar for vegetables and fresh produce.
Haenz is a tribe of people who live of boats, their humble house is called Doonga. Doongas are small floating houses with a bedroom, living room and a Kitchen. The abundant water surface of Dal is used to cultivate vegetables on these unique floating gardens. Various aquatic plants spring from the bottom of the lake… water lilies, confervae, sedges and reeds, the roots of these plants are cut off just about two feet under the water, so that they are completely loose of all the connection to the bed of the lake, but retain their position in respect to each other with their intertwined stems.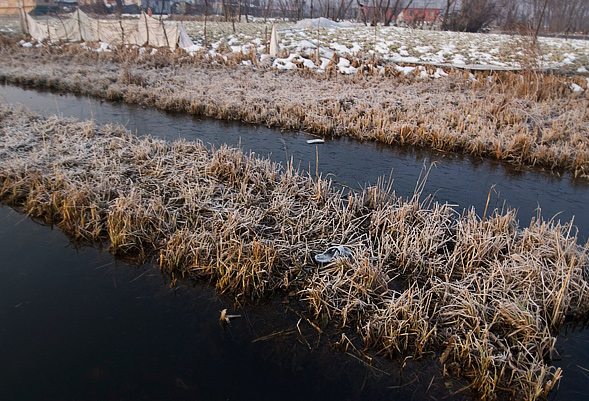 Then these natural floats are covered with thin mud, which gradually sinks into the mass of matted stems, roots binding them together. The floating beds are kept in place by a stake driven through at each end. The floats (Dembe), about two yards in width, stretched to indefinite lengths form avenues one can easily traverse through in a personal Naav and tend to the plants… turnip, cabbage, cauliflower, radish, kashmiri haakh… Some gather water nuts (Singhdre), lotus stems (Nadru), houselotus seeds (Pambach) and many more…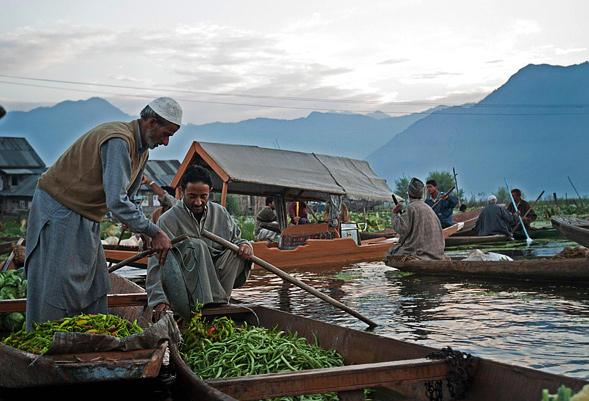 The story as told by the boatman goes…. A Kashmiri Pandit, Naraindas had a shop that used to cater to the needs of the tourists. Tragedy struck when his shop on the banks of Jhelum got gutted in fire. Naraindas without losing hope moved his remaining goods to a Doonga… moored it at a suitable site along the banks of Jhelum and the shop was open again. Soon, he began to improve his shop by replacing its wagoo matted walls and roof with planks and shingles.
The first houseboat was afloat…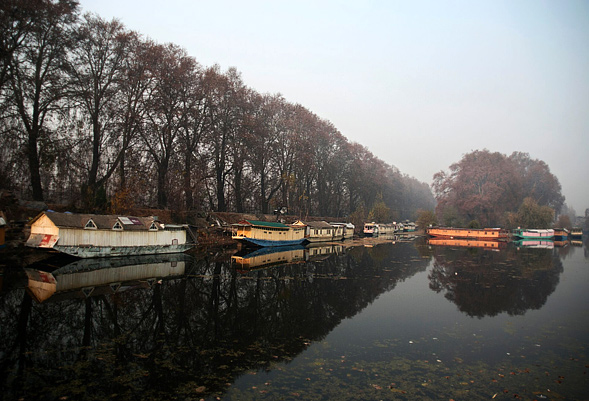 This houseboat was better than any regular Doonga anyone had seen so far. Doongas till now came in various sizes and use; for ferrying passengers, as water trucks for cargo, but never as grand as this one. It gathered all the attention from far and near…boats flocked around for tourists to get a closer look. Everyone wanted to touch it, see it, ride, if possible own it…Soon, Narayan was flooded with proposals by tempted onlookers, native Indians and foreigners, who always wanted to own a dwelling, a place in the valley but were handcuffed by the valley laws that did not allow any outsider to own a piece of land in Kashmir.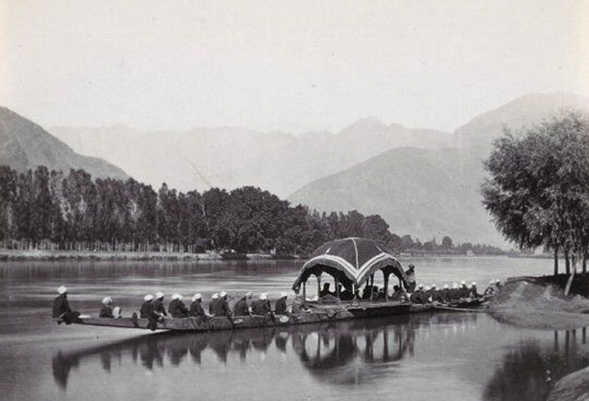 For all of them Narayan had opened up gates of hope… and sensing a good opportunity for business, he began making and selling these custom made houseboats to whoever wanted and could pay for them, the first buyer being a European. And thus he became popular as Naav Narayan, the houseboat builder.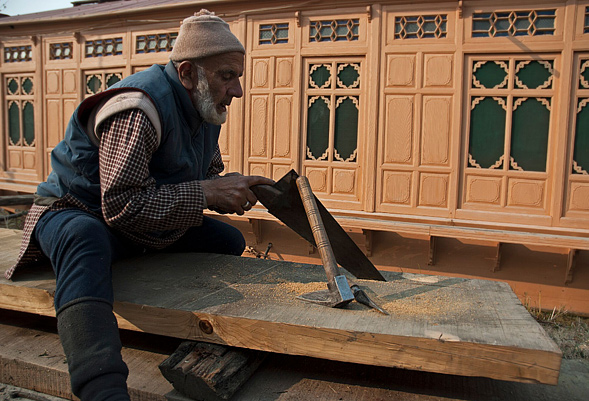 As days went past… people came pouring into the valley to smell the fragrance of Kashmir… and several carpenters got busy and over a period of time contributed to the magnificence of this floating beauty. Specialized carpenters like a Ghar-chaan who makes the hull or the super structure made the body of the boat… basic carpentry tools like saws, axe, hammers and chisels were used.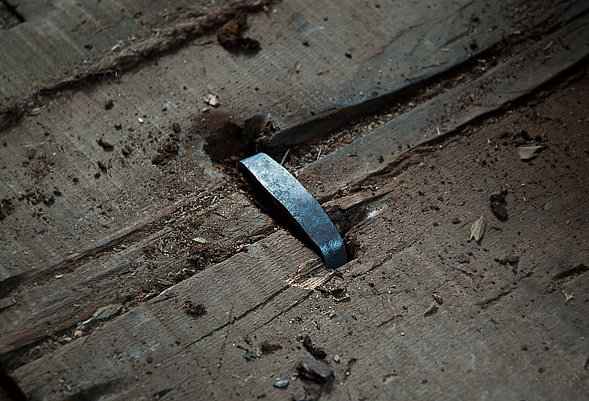 Thick planks of deodar wood were cut to shape as per the requirement and were interlocked with structural joints (Stopped-Splayed Wedged Scarf joints) to make seamless long planks. The planks were then held together with large iron staples, rope dipped in natural resin was stuffed in-between to seal the fine gaps between planks to prevent water seeping through. Thereafter, a general Chaan laid the roof. A Wastalaw Chaan did the interiors.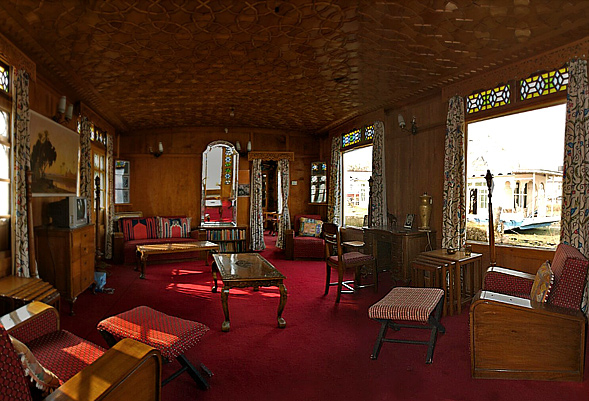 All the available local crafts of Kashmir were employed… elaborate woolen & silk carpets and woolen Namdas for flooring, intricately carved wooden panels in Walnut wood, seamless Khatambandh ceilings… The spaces were decorated with Walnut wood furniture, copperware and papier-mâché objects, colorful and exquisite drapes of Aari and Sozni for furnishing…and what not…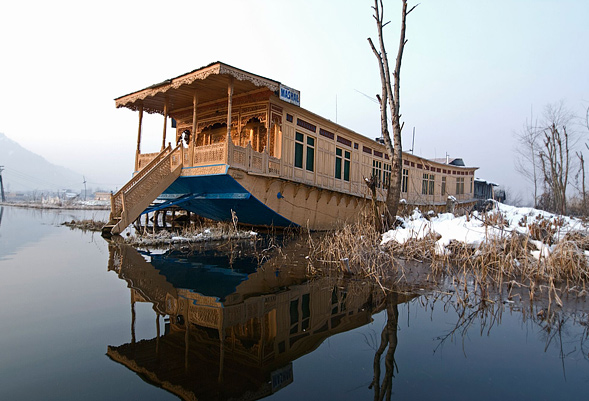 Well… stories are many when good things happen… A man named M.T Kennard came with the idea of floating house around the same time as Naraindas and offered to make houseboats more luxurious with all the western amenities. Adding to the luxury of a houseboat, the larger Naav was converted into a Shikara, a limo water taxi to ferry visitors to and fro from the houseboat or for a ride around the lake.
Beauty is meaningless without love…So is Kashmir without its people… A storyteller, the boatman who since birth lived on boats, grew up and chose to be a shikara haenz. Stories thrilled him… he enjoyed talking to complete strangers without any diffidence… while ferrying them across numerous water ways of Dal.
Now a wise old man with all these stories and experiences to share… talking about love, the boats, seasons on his numerous rides, he would sometimes treat these strangers to his home in the lake, bonding over some kahva or a cup of nun-chai (salt tea) with bites of czhot (local bread)… And every time his heart shape paddle gently tore the reflection on water, it propelled him to distances he would have never imagined…the heart paddle became a metaphor of the stories he shared, slowly illustrating them like a song with the rhythm of the flipping water from his paddle…